Urethane Dogbone Springs that are on offer in our company are cast to meet any requirement. Plan Tech uses state-of-the-art processing equipment and advanced molding techniques to produce professional-grade urethane dogbone springs for all types of industries.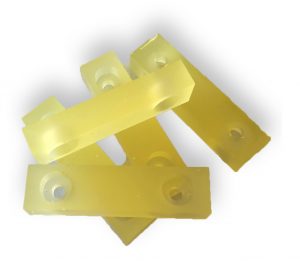 Our engineering crew does not fail to apply speed and precision during production. The application of both measures enables us to consistently meet high volume demand of our urethane dogbone springs within an incredibly fast turnaround without compromising quality. Our urethane dogbone springs have proven to offer tremendous physical properties.
The rubber dogbone springs that we produce at Plan Tech can remarkably withstand heavy pressure as well as resist wear, corrosion, chemicals, and abrasion, etc. Manufactured with the expectation of high performance, reliability, and a formulation that will withstand rigorous work environments. Plan Tech's urethane dogbone springs are available in different shapes, sizes, hardness, and colors. And we are more than capable of casting rubber dogbone springs according to your specific requirements irrespective of the purpose of the application.
So, if what you are looking for is a company that can manufacture urethane dogbone springs that will offer good value for your money as well as help set your brand apart from others in the industry, then Plan Tech is the ideal choice you seek. For over 30 years we have focused on using speed and precision to manufacture the highest quality industrial cast urethane parts to our customers. A particular strength is the breadth of our in-house capabilities such as urethane compression molding and grinding urethane parts which, when combined with our extensive experience, enables us to deliver tight tolerance custom urethane parts while maintaining the quality control and cost effectiveness our customers require. The tests are performed according to an established set of standards provided by an accredited testing organization such as the Society for Testing and Materials (ASTM) who define the procedures in detail.
Are you interested in Urethane Dogbone Springs? Please Contact us so we can help solve your requirements and work with you on your specific application!