Urethane dolly wheels are the best choice for dolly wheel applications. In order to make ours even more superior, we manufacture with a high level of exactness, speed, and precision. We are known to produce urethane dolly wheels with world-class quality, design, and formulation.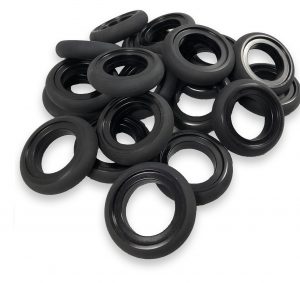 The secret is our in-house machine that is fully equipped with state of the art equipment which allows us to produce urethane dolly wheels that rank among the very best the industry has to offer. In addition to our in-house machine shop, we also boast a team of skilled engineers who are exceptional when it comes to manufacturing urethane products. It is, therefore, no surprise that our urethane dolly wheels exhibit better physical properties than those produced by most other companies; they are non-marking, they have outstanding resistance for abrasion, harsh chemicals, solvents and even acids.
Over the years our team of technicians has perfected the manufacturing process which makes it possible for us to meet fast turnaround time but not at the expense of quality. So whether you have small runs of 100 pieces or large runs in the tens of thousands, Plan Tech is flexible enough to accommodate your on-going needs while meeting your deadline. For over 30 years we have focused on using speed and precision to manufacture the highest quality industrial urethane dolly wheels to our customers. A particular strength is the breadth of our in-house capabilities such as grinding urethane parts which, when combined with our extensive experience, enables us to deliver tight tolerance custom urethane dolly wheels and parts while maintaining the quality control and cost effectiveness our customers require. The tests are performed according to an established set of standards provided by an accredited testing organization such as the Society for Testing and Materials (ASTM) who define the procedures in detail.
Please Contact us for further details or to answer your questions about cast Urethane Dolly Wheels!