Urethane Drift Trike Wheels are unlike all traditional wheels. What makes drift trikes drift is the slippery 10'' x 6'' rear tires commonly made from PVC pipe. Plan Tech being a world supplier of urethane parts was first approved to make superior urethane drift trike wheels because of the enormous benefits urethane offers.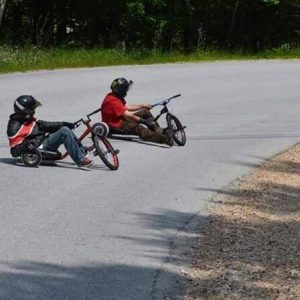 Made from rock hard friction reduced modified urethane our drift trike urethane wheels are commonly referenced to slicker than ice. These are not typical PVC covered wheels but specially cast from solid urethane in any custom size available. We also have competition race wheels available in a softer hardness to still drift the corners but have just a little bit more bite to the road. Available in any color or hardness drift trike urethane wheels are often times bonded directly to an old rim.
Send Plan Tech your old drift trike wheels and we will media blast the wheel before coating the wheel with solid urethane. PVC or plastic slip on covers are often times extremely dangerous in bumpy conditions. It is very common for PVC to explode when riding hard and more prone to failure when cold. Urethane solves all theses problems and also wears like iron.  We will also add a radius on each wheel to enhance the balance point when two wheeling. Other options are 100% solid urethane wheels. Since the urethane material is so hard urethane does well with rolling on a smooth shaft without bearings or hubs as well. We have heard many times our drift trike urethane wheels are unlike anything else.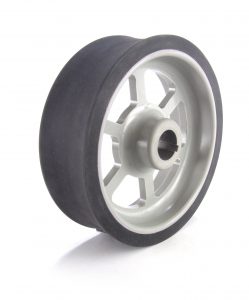 Please Contact us for further details regarding custom urethane drift trike wheels!