Urethane Drive Rollers are very common in shipping facilities, assembly lines, and industrial equipment. Adding a urethane coating to the urethane drive rollers will eliminate the steel contact to the product and is an ideal choice as urethane will dampen the harsh slamming of a machine or load being applied to the roller. Most urethane drive rollers will consist of a steel core with a key way that will be driven by a gear box. At Plan Tech we can strip the old worn out coating and recoat existing urethane drive rollers to match OEM parts at a fraction of the cost with outstanding performance properties that often times out-lasts OEM products.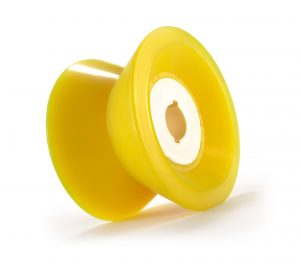 Urethane Drive rollers will match the profile of the product it will be driving down an assembly line. Urethane is a great choice as it is non-marking with a quiet operation and can be molded or machined to any profile needed for the application. For over 30 years we have focused on using speed and precision to rapidly deliver the highest quality industrial cast urethane products and FDA approved urethane parts to our customers. Our custom cast polyurethane facility maintains world-class capabilities and equipment, combined with excellent quality systems.
A particular strength is the breadth of our in-house capabilities which, when combined with our extensive experience, enables us to rapidly deliver cast urethane parts while maintaining the quality control and cost effectiveness our customers need. In addition to these state of the art technical capabilities, Plan Tech also has an outstanding team of dedicated employees with exceptional talents and industry leading expertise. We also are very proud of the "company we keep." Our customers include many Fortune 500 companies, most of whom have been customers for over 20 years. Their drive to become industry leaders has helped us do the same.
Please Contact us for further details regarding urethane drive rollers!