Urethane drive sprockets are very common industrial OEM parts. Urethane drive sprockets are made from tough durable urethane normally found in many applications and will out last similar materials in any condition or climate. Urethane will absorb and impact or mismatch and run quite and smooth vs steel sprockets. Urethane drive sprockets are available in low volume or to reproduce a discontinued urethane drive sprocket. Plan Tech's most common hardness is 50D and is available as hard as 75D with additional additives that can be used to modify the urethane to prevent static buildup or to dissipate static.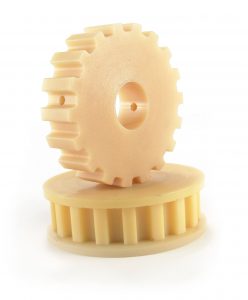 Other additives may be used for FDA urethane applications or to add lubricity. Urethane drive sprockets also have great abrasion resistance and excellent load bearing performance. Polyurethane drive sprockets have lower tooling costs vs traditional metal sprockets and often times cost far less than OEM replacement sprockets. When casting urethane drive sprockets using compression style molding the parts will yield a high-quality replacement urethane drive sprocket at a dealers price. We will work with you on any needed detail and custom hubs for high strength application would be manufactured in house.
Machining cast urethane parts require specialized equipment and training. Here at Plan Tech we make all of our own molds in-house for speed, accuracy and precision. We control the entire process from design to manufacturing. Mold making is at the very core of what we do. Our machine shop includes CNC Lathes, Mills and Grinders for machining cast urethane parts. We also have manual mills as well as a sheet metal and welding area. We have a Flow Water jet with 48×96 inch sheet capabilities and can cut a list of materials like Polyurethane, Steel, Stainless Steel, Aluminum, Carbon fiber, and most plastics.
Please Contact us for further details regarding Custom Urethane Drive Sprockets!