Urethane drive wheels are very popular due to the ability to tailor urethane to any hardness required for the application. Urethane drive wheels will have a key slot or bolt to a hub that will drive the wheel. Urethane drive wheels are popular in many industries that have requirements to move large objects easily.
Wear Resistant Urethane Drive Wheels
Polyurethane drive wheels are ideal when changing direction is a requirement in the application. At Plan Tech we have a full in-house machine shop with the ability to make the complete drive wheel from high-quality steel or aluminum and cover them with the highest quality urethane in the world! We also can cast the rim or core out of a hard urethane and the cover with a softer material creating what we call a dual duro urethane drive wheel.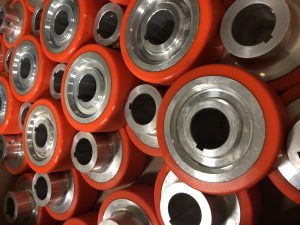 Any color or hardness of the tread plus the ability to choose the color and size of the wheel make urethane drive wheels an excellent choice in custom applications or replacing a failed or worn out OEM drive wheel. We also can bore the keyway to any size and add any pattern desired in the tread of the drive wheel. We will manufacture urethane drive wheels to your exact specifications often times for less than OEM replacements. Plan Tech has a specialized cast urethane manufacturing facility that has been dedicated to supplying our customers with nothing but the highest quality custom urethane drive wheels for the most demanding industrial applications around the world. Plan Tech makes all of its own molds in-house for speed, accuracy and precision. We control the entire process from design to manufacture. Mold making is at the very core of what we do. Our machine shop includes CNC Lathes, Mills and Grinders. We also have manual mills as well as a sheet metal and welding area. We have a Flow Waterjet with 48×96 inch sheet capabilities and can cut a list of materials like Polyurethane, Steel, Stainless Steel, Aluminum, Carbon fiber, and most plastics. Having such a wide variety of equipment enables Plan Tech to manufacture thousand of urethane drive wheels annually!
Tight Tolerance Urethane Drive Wheels
We stock a large variety of special additives which we add to improve the physical properties of our urethane drive wheels and our molded polyurethane parts. All of our molded polyurethane parts possess the ability to return to their original shape after absorbing high impact, and they retain this ability even after they have repeatedly been abused for years. There are many advantages that urethane has vs metal and plastic with our custom molded polyurethane parts! Tight tolerance molded urethane parts have been manufactured at Plan Tech for over 30 years!
Best Urethane Drive Wheels!
Machining urethane drive wheels and cast urethane parts require specialized equipment and training. Here at Plan Tech we utilize 3D CAD Design Software Solidworks and make all of our own molds in-house for speed, accuracy and precision. We control the entire process from design to manufacture. Custom mold making is at the very core of what we do. We create complex molds for our in-house use as well as many of the components that are molded into customer products. Molds are machined from aluminum or tool steel depending upon tool life requirements. The inserts and cores that we manufacture for urethane drive wheels and custom molded polyurethane parts are made from a wide variety of metals and plastics including UHMW PE, ABS, aluminum and steel.
Please Contact us for further details regarding your urethane drive wheels applications!