Urethane elevator wheels are among the numerous top-grade urethane components and products that we manufacture in our world-class cast polyurethane facility and our in-house machine shop. To ensure the physical property of our urethane elevator wheels is of superior quality than other brands in the industry, we always make use of world-class urethane materials from internationally renowned polyurethane chemical producers.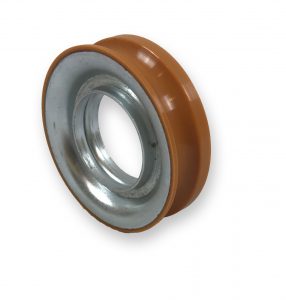 Our elevator wheels boast impressive resistance ability against wear, abrasion, and chemicals. Our urethane elevator wheels are also capable of withstanding extreme temperature, and their durability is second to none. Like all our other urethane materials, we always apply speed and precision for the production of our urethane elevator wheels which allow us to maintain consistency in quality as well as meet the high volume demands of numerous customers. We cast the urethane mold to make the part and the machine it using our world standard urethane machinery. No matter the profile of polyurethane elevator wheels you need, you can count on us to manufacture urethane elevator wheels that will meet the requirement of your application. No other brand in the industry boasts a team of engineers with better technical prowess to handle your polyurethane elevator wheels project from design to world-class production.
Machining cast urethane elevator wheels and polyurethane parts require specialized equipment and training. Here at Plan Tech we utilize 3D CAD Design Software Solidworks and make all of our own molds in-house for speed, accuracy and precision. We control the entire process from design to manufacture. Custom mold making is at the very core of what we do. We create complex molds for our in-house use as well as many of the components that are molded into customer products. Molds are machined from aluminum or tool steel depending upon tool life requirements. The inserts and cores that we manufacture for molded polyurethane parts are made from a wide variety of metals and plastics including UHMW PE, ABS, aluminum and steel.
Please Contact us for further details regarding custom molded urethane elevator wheels!