Urethane engine mounts are more long-lasting and resistant to deformation from engine torque than regular rubber mounts. They are now the industry standard replacement for OEM rubber motor mounts which wear out easily and cause damaging vibration.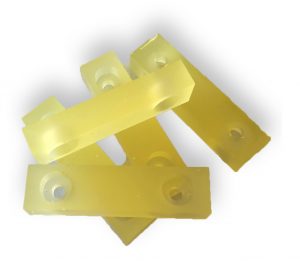 Unlike solid race-style mounts, urethane engine mounts are not too harsh for street use. They offer incredible vibration resistance and prevent engine flexing. They are also excellent resistant to all automotive chemicals from oil to grease, acids, coolants, and road debris.
At Plan Tech, we only make use of high-quality urethane materials for the production of our rubber engine mounts. Also, to make sure they are of top-grade quality and the very best in the market, we always apply speed and precision, which allow us to maintain consistency in quality. Our experience over the years has also given us the ability to meet the high-volume demand from our numerous clients.
Our custom manufactured engine mounts boast superior physical properties, which is evident in their high resistance resist wear, abrasion, corrosion, chemicals, and environmental conditions. Our in-house precision engineering unit has the technical ability to produce urethane engine mounts in different shapes, sizes, and durometer that will meet the requirement of any application. Plan Tech strives to use the latest in design software technology for the designing of complex urethane molds. We utilize SolidWorks to design all of our open face and compression molds per customer specifications. When we have completed our design that has been approved by the customer we machine them using CAMWorks at our in-house machine shop. This creates a faster "concept to production" environment to produce superior parts for our customers. Below is a list of the software used for designing urethane molds:
PTC Creo:  PTC Creo formerly known as Pro/ENGINEER, is a 3D CAD/CAM/CAE feature-based, associative solid modeling software. PTC Creo is one of a suite of 10 collaborative applications that provide solid modeling, assembly modeling, 2D orthographic views, finite element analysis, direct and parametric modeling, sub-divisional and NURBS surfacing, and NC and tooling functionality for mechanical designers.
Are you interested in Urethane engine mounts? Please Contact us so we can help solve your requirements and work with you on your specific application!