Urethane escalator rollers manufactured by Plan Tech are made from top-grade urethane materials from globally renowned chemical producers. We cast the urethane into a mold to form the part and then we use the world-class machinery in our fully equipped in-house machine shop to machine the product. We offer our urethane escalator rollers in different durometers because our highly skilled team of engineers have the technical know-how to cast the product in different profiles.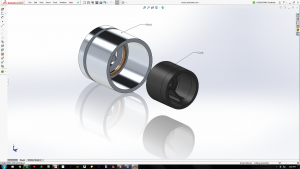 Our urethane escalator rollers boast superior physical properties that are second to none in the industry. They are capable of outstanding and resisting chemicals, wear, corrosion and abrasion. And when it comes to maintaining high performance even in a harsh environment or after years of been repeated used, our poly escalator rollers are simply the best. We are therefore proud to say that the urethane escalator rollers produced in our in-house machine shop by our engineering team, offer remarkable performance ability and long service. They are non-marking and easy to install for operators.
Like all of our other urethane parts, we apply speed and precision for the production of our urethane escalator rollers which allow us to meet the high-volume demand of our numerous customers without compromising quality. With our over 30 years' experience of manufacturing urethane parts and the exceptional technical prowess of our team of engineers, you can count on us to meet the requirements of your polyurethane escalator rollers application requirements.
One important factor about cast urethane parts is that the composition of the parts can easily be manipulated. You can choose whether you want an end product that is rigid, flexible or something that is even similar to rubber with a gummy texture. Our cast urethane parts are even able to be customized by color and additional add-ons (cores/hardware). While black cast urethane parts are the norm, we can make them white, blue, yellow, safety orange, green, etc. Additionally, you can choose whether you want the finishing to be smooth, shiny, or even a custom finish for all your urethane escalator rollers needs.
Please Contact us for further details about cast urethane escalator rollers!