Urethane feed cones are widely used in the material processing industry. Polyurethane is an impact-absorbing high wear resistant material perfect for industrial urethane feed cones applications. The urethane feed cones are ideal for transferring material such as pulp and paper, sand slurry or any other abrasive compound. Urethane outlasts even stainless steel in this type of application. PlanTech can line existing parts with a urethane coating or even mold complete urethane feed cone assemblies.
For over 30 years we have focused on using speed and precision to manufacture the highest quality industrial custom cast urethane feed cones to our customers. A particular strength is the breadth of our in-house capabilities such as grinding urethane parts which, when combined with our extensive experience, enables us to deliver tight tolerance custom industrial urethane feed cones while maintaining the quality control and cost effectiveness our customers require. The tests are performed according to an established set of standards provided by an accredited testing organization such as the Society for Testing and Materials (ASTM) who define the procedures in detail.
In addition to these state of the art technical capabilities, Plan Tech also has an outstanding team of dedicated employees with exceptional talents designing and manufacturing urethane feed cones. We also are very proud of the "company we keep." Our customers include many Fortune 500 companies, most of whom have been customers for 20+ years. Their drive to become industry leaders has helped us do the same. Whether you are a start-up company or global leader, we can add value to your products with our strong engineering support, polyurethane polymer experience and constant focus on meeting all delivery requirements. Our rapid prototyping capabilities have also received particularly positive feedback – we frequently go from "Print to Part" in 10-15 business days! Everything we manufacture is MADE IN THE USA.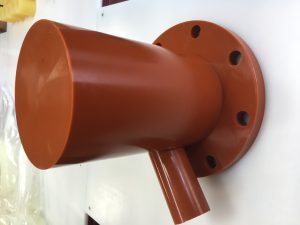 Please Contact us for further details regarding urethane feed cones!