Urethane film drive rollers manufactured at our ultra-modern in-house machine shop are made from world-class materials purchased from globally renowned chemical producers. Our urethane film drive rollers have proven to stand apart from those of other brands in the industry. In most cases, the materials produced by these brands either did not last or are of poor quality. As such, we developed urethane film drive rollers that are state-of-the-art, and one of the best the industry has to offer.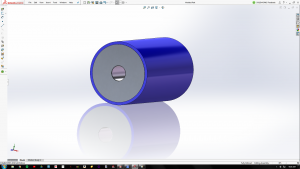 Our polyurethane film drive rollers offer excellent wear and tear resistance which increases the lifespan of plant and equipment, low friction coefficient – so less energy is required to move materials around, and it also reduces plant downtime. Our innovation and technological expertise add value across a range of industries through the production of high-quality urethane film drive rollers. Our team of engineers can also customize urethane film drive rollers to fit your specification or create a direct replacement for your existing machinery.
To ease production from inception to completion, our urethane film drive rollers are designed in our in-house machine shop. Rapid prototyping is available, and our clients are provided with an outstanding customer service experience. The following are some benefits of utilizing urethane film drive rollers vs Nylon, Rubber and UHMW:
BONDING ONE MATERIAL TO ANOTHER MATERIAL
You do want to look for a product that can be bonded to other products, and no other material allows for such bonding better that Urethane materials. Fortunate for you that Plan Tech allows for bonding of any type of material example; aluminum or steel. Such bonding ability cannot be expected with Silicon, UHMW, and Nylon
SHOCK ABSORBING AND SOUND DAMPENING
You can say goodbye to the issues of sound reduction and shock absorbing with Plan Tech urethane. You certainly can't do same with Silicon, UHMW, and Nylon due to the significant difference in their capabilities.
RESISTANCE TO OZONE AND OXYGEN
Where Silicon, UHMW, and Nylon will fail you in resisting Ozone and Oxygen, Plan Tech's polyurethane's will efficiently do the opposite – which is, resist Ozone and Oxygen.
Please Contact us for further details regarding urethane film drive rollers!