Urethane filter seals are one of the several urethane products or parts that find applications in different industries due to their remarkable physical properties. The urethane filter seals manufactured by us at Plan Tech possess remarkable ability to resist wear, abrasion, corrosion, and chemicals. And they are just as capable of maintaining their performance ability in harsh environments where other urethane filter seals might fail.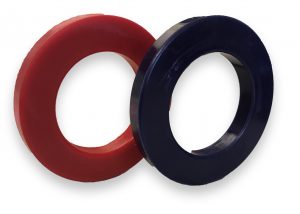 We manufacture all of the products in our world-class in-house machine shop that is fully equipped with our state of the art urethane facility. Our application of high-level precision and speed for the manufacture of our polyurethane filter seals allows us to meet the high volume demand our numerous clients at a fast turnaround without compromising their premium quality.
Our team of engineers who are technical gurus can cast urethane filter seals in different durometers that meet the requirements of any applications. And having been in the business of manufacturing urethane parts that are of top-notch quality for over three decades now, you, therefore, depend on us to handle your urethane filter seals from scratch to finish with maximum efficiency. As the go-to company where all urethane needs are met, you can, therefore, count on us to help you realize or maintain your goal of being an industry leader in your sector. Most custom cast urethane parts can be molded and shipped within just a couple of weeks. Oftentimes, they can arrive much faster. Producing urethane parts is pretty straightforward and can be done on a short timeline. If lead times are important, consider specifying cast urethane parts. No matter what your intended use is for the finished Urethane Filter Seals, they are sure to make your projects a lot easier and that much more refined. Custom made cast urethane parts are the way to go – no matter if you're an established business or somebody starting out.
Please Contact us for further details about cast Urethane Filter Seals!