Urethane finger rollers are one of the numerous high-quality urethane products manufactured in the state of the art Cast Polyurethane Manufacturing facility and in-house machine shop at Plan Tech. Over the years, more advanced machinery continually demands superior properties that can only be delivered by excellent urethane formulation.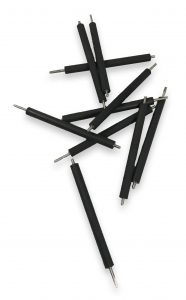 Plan Tech's finger rollers are manufactured with the best urethane formulation and technology. Our exclusive polyurethane finger rollers promote longer life and extended durability. Designed to be fairly flexible, our rubber finger rollers help minimize bruising, provide less sticking and build up, and deliver superior mud shedding properties.
-Our finger rollers are produced in different sizes to suit customers' requirements
-They are made in various hardness
-Multiple colors are available
-Custom logo accepted (engraved & embossed)
-We accept and fulfill large quantity orders
-We practice a strict quality control system
Some of the advantages held by our rubber finger rollers over other brands include outstanding resistance to wear, abrasion, chemicals, and corrosion, etc. Our urethane finger rollers can also be heavily relied upon for their remarkable ability to withstand weather extremities as well as unfavorable environmental conditions.
We provide custom design services which mean we can manufacture urethane finger rollers based on your drawings or sample. Our engineering team can also suggest or design according to its application or customer's requirements. For over 30 years we have focused on using speed and precision to manufacture the highest quality industrial cast urethane parts to our customers. A particular strength is the breadth of our in-house capabilities such as urethane compression molding and grinding urethane parts which, when combined with our extensive experience, enables us to deliver tight tolerance custom urethane parts while maintaining the quality control and cost effectiveness our customers require. The tests are performed according to an established set of standards provided by an accredited testing organization such as the Society for Testing and Materials (ASTM) who define the procedures in detail.
Are you interested in cast Urethane Finger Rollers? Please Contact us so we can help solve your requirements and work with you on your specific application!