Urethane Gear Sprockets are designed to operate quietly for high demand applications. Urethane has a great ability to absorb an impact resulting in smooth operation and extended run time vs similar materials.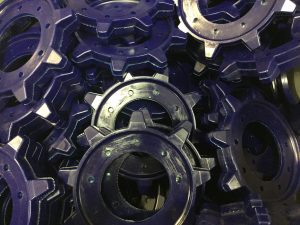 Polyurethane resins have superior physical properties making urethane gear sprockets a go-to choice when choosing a high-performance material. Urethane gear sprockets can easily be molded to size resulting in low-cost high volume applications that often times have little tooling start-up cost on new urethane gear sprockets.
Plan Tech's team of engineers can reverse engineer an exciting gear sprocket or design a completely new one with any profile or detail added. We have specialized in reproducing discounted urethane gear sprockets for many different industries. Our largest customer had been using 2500 sprockets annually and was having issues with an aftermarket injected urethane company. After testing we found our sprockets to be 20% stronger vs the OEM equipment that was being discounted and over 60% stronger than the injected urethane! We also found the cut and tear strength was drastically increased using our 50D material.
We frequently have customers come to Plan Tech for a custom application not offered by OEM replacement parts to alter how a machine processes material. We have several different urethane additives to alter performance to maximum efficiency for one off custom urethane parts.
Plan Tech also has an outstanding team of dedicated employees with exceptional talents designing and manufacturing urethane molded parts. We also are very proud of the "company we keep." Our customers include many Fortune 500 companies, most of whom have been customers for 20+ years. Their drive to become industry leaders has helped us do the same. Whether you are a start-up company or global leader, we can add value to your products with our strong engineering support, urethane polymer experience and constant focus on meeting all delivery requirements. Our rapid prototyping capabilities have also received particularly positive feedback – we frequently go from "Print to Part" in 10-15 business days!
Please Contact us for further details regarding your Urethane Gear Sprockets!