Urethane gripper pads are replaceable inserts that provide additional holding force and/or wear resistance. Urethane gripper pads created by Plan Tech have proven to be ideal for use in clamping arms, gripping systems, clamping jaws, clamping fixtures and self-aligning pads. These urethane gripper pads transfer very high torque values, even with hard materials and surface irregularities.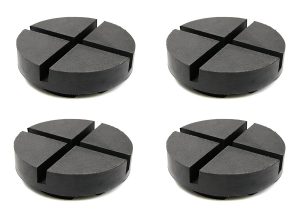 Urethane gripper pads are known to keep your objects in place and save. They also help protect surfaces from wear and tear, which in turn makes them long-lasting. Our urethane gripper pads feature an impressive surface with a non-slip grip. They are non-marking, non-staining and in most cases permanently bonded to other materials such as stainless steel. They provide excellent protection against damage to finished workpieces or products and they are great for heavy duty materials as they possess extra-strength to withstand the workload.
Our team of talented engineers constructs each of the urethane gripper pads to meet even the most stringent specifications. The team fabricates a wide variety of urethane gripper pads for different equipment. This urethane gripper pad guarantees above average holding forces at high cutting forces provides excellent wear resistance and is available in different firmnesses to suit a wide variety of applications.
Urethane Molded Gripper Pads vs Metals and Plastics
The production of metal parts can be very expensive, and the reason is that, unlike urethanes that can be casted easily, the casting of metal parts cannot be done without the process of welding and the use of machines.
Not even plastics and metals can resist significant impact like urethanes. Where urethanes can offer an outstanding load-bearing performance, most plastics and metals will succumb to the shock and impact of higher loads and eventually break down.
The elastomeric memory of urethanes is second to none; they have the ability to regain their initial size regardless of the rigidness at which they are extended or stretched to a significant extent. Whereas many plastics and metals can't regain their original size having been extended beyond their breaking point or elastic limit.
Please Contact us for further details regarding urethane gripper pads!