Urethane guide rings manufactured at Plan Tech are precision machined according to tight tolerance specifications on the radial section of the guide. They help to optimize guide load distribution and limit radial misalignment of components for best seal performance. Our urethane guide rings can operate dynamically on their outside or inside surfaces – therefore they can be used in rod or piston applications.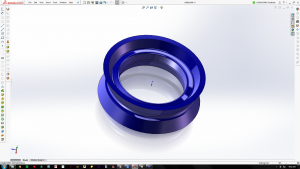 The primary function of the urethane guide rings is in the guiding the piston and rods of hydraulic and pneumatic cylinders and preventing direct metallic contact with the cylinder housing. This means that the urethane guide ring must have the capacity to absorb all transverse forces exerted, even those exerted over a short guide distance while keeping frictional losses low.
With the combination of innovative technology, design knowledge, and installation experience, Plan Tech has developed the very best urethane guide rings on the market. They are impressive for their high functionality, low friction coefficient and the best possible protection against metal contact. At Plan Tech, we offer the right Polyurethane Guide Rings for every type of cylinder or equipment, with maximum reliability and longevity. Our success in producing high-quality wear-resistant urethane guide rings is accomplished by combining dynamic performance with cut and abrasion resistance. Polyurethane is so important that it has constituted a significant part of our day to day life. Look around, and you will notice that "they" are applied in so many ways in almost all the available industries or fields from footwear, furniture, agricultural sectors to refrigerators, construction and automotive industries. This high-performance material come in different levels of hardness and textures like flexible & soft as rubber, as well as rigid & hard like plastic. The following are a few examples of products that use polyurethanes in their production.
Are you interested in cast Wear-Resistant Urethane Guide Rings? Please Contact us so we can help solve your requirements!