Urethane guide wheels are extremely popular due to urethane's great ability to absorb an impact and return to its original size even after years of abuse or even underwater use. Plan Tech supplies thousands of urethane guide wheels around the world each year, we use high-performance polyurethane materials from world leading chemical companies.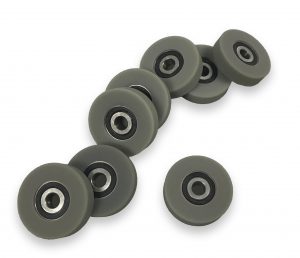 Most urethane guide wheels consist of an aluminum core that is machined in our state of the art machine shop. After each core is rigorously inspected before it enters our clean room for media blasting where a light coat of bonding adhesive will be applied to the mating surface. Being able to cast directly to the wheel creates a bond strength greater than the tear strength of the urethane material.
Urethane guide wheels are most popular in a 95A hardness with many different additives available for any applications. Our most common additive is called armorglide which will add lubricity and increased abrasion resistance to the urethane guide wheels. Plan Tech has also seen an increase in robotic urethane guide wheels with an anti-static additive to allow our polyurethane guide wheels to be conductive.
After 30 years of designing and manufacturing Plan Tech has built several machines for such specific tasks like grinding urethane guide wheels with specialized grinding equipment. We can hold a tight tolerance of +/-.005 on all of our machined parts for a smooth ride. Plan Tech also has an outstanding team of dedicated employees with exceptional talents designing and manufacturing urethane molded parts. We also are very proud of the "company we keep." Our customers include many Fortune 500 companies, most of whom have been customers for 20+ years. Their drive to become industry leaders has helped us do the same. Our rapid prototyping capabilities have also received particularly positive feedback – we frequently go from "Print to Part" in 10-15 business days! Everything we manufacture is MADE IN THE USA!
Please Contact us for further details regarding cast polyurethane guide wheels!