Urethane hanger bearings custom made and manufactured by Plan Tech are mainly used in the automobile industry by design engineers and technicians, especially in the building and construction bearing industry. Urethane hanger bearings can also be used as food processing bearings, medical device bearings and as fishing reels.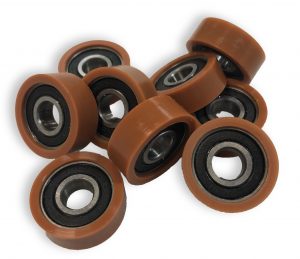 Urethane is preferred due to its excellent properties such as:
Ability to absorb moisture
High-temperature capacity
High tensile strength
High abrasion resistant property
Optimal elasticity
Ability to withstand harsh environments
In addition, the urethane hanger bearings produced by Plan Tech can withstand temperatures up to 200oF. It is also used to support bearings for drive and screw conveyor shafts. Our urethane hanger bearings are compatible with a 220 style hanger and can be custom made to suit your specifications and demand. The urethane hanger bearings can also be used for grain, fertilizer and chemical applications. They are also used in aircraft assemblies, automotive assemblies, and marine driveshaft assemblies. Plan Tech manufactures self-lubricating urethane hanger bearings on order.
At Plan Tech we manufacture polyurethane hanger bearings that are flexible, easily absorb vibration, resistant to oil, road contaminants, and cleaning solvents. The urethane hanger bearings are also powder coated which provides rust protection. Plan Tech a leader in cast urethane manufacturing, process's urethane additives from the world's leading chemical companies. Whether its enhanced lubricity for high abrasion resistance applications or for anti-static wheels for shoppers who don't want to be zapped touching a metal cart. Having more than 30 years experience in the polyurethane industry provides Plan Tech the specific knowledge of incorporating polyurethane additives:
FDA Urethane Additives: Eriez POLYMAG® a leading manufacturer of Metal Detector systems, allows urethane molders to produce FDA Metal Detectable and X-Ray Visible urethane parts for food contact applications that can satisfy varying levels of detectability. Acceptable for repeated contact with food under section #177.21000, subpart F. Can be used in continuous and repetitive contact with dry, aqueous and fatty foods. Typical features of these polyurethanes include outstanding abrasion resistance, high tensile and tear strength, and excellent load bearing capabilities.
Are you interested in cast urethane hanger bearings? Please Contact us so we can help solve your requirements and work with you on your specific application!