Urethane hourglass rollers are frequently used for processing a variety size of material due to its hourglass profile. Bonded urethane directly to a steel shaft gives our urethane hourglass rollers incredible strength for a superior material against abrasion.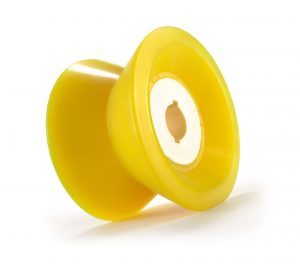 Plan Tech has a full stock of high-performance urethane material from world leading chemical companies with a variety of additives to enhance the physical properties of our urethane. Urethane hourglass rollers are available in any hardness or color with custom profiling to match OEM Urethane hourglass rollers or for new custom applications. FDA applications are also no problem with additives for existing X-Ray equipment in case of a failure.
Plan Tech has an on-site urethane machine shop dedicated to profiling urethane hourglass rollers at a rapid speed. We have built several custom one-off machines for custom urethane grinding of any hardness. Our most common hardness for rollers is a 95A ether-based material capable of high loads and underwater use that can be easily turned to match any profile. Tight tolerances allow our urethane hourglass rollers to be used in drive applications to move product in a pinch style set up. For a low-cost application Plan Tech also specializes in open castings with mold making on site.
Plan Tech also has an outstanding team of dedicated employees with exceptional talents designing and manufacturing urethane hourglass rollers. We also are very proud of the "company we keep." Our customers include many Fortune 500 companies, most of whom have been customers for 20+ years. Their drive to become industry leaders has helped us do the same. Whether you are a start-up company or global leader, we can add value to your products with our strong engineering support, urethane polymer experience and constant focus on meeting all delivery requirements. Our rapid prototyping capabilities have also received particularly positive feedback – we frequently go from "Print to Part" in 10-15 business days! Everything we manufacture is MADE IN THE USA!
Please Contact us for further details regarding hourglass rollers!