Urethane Idler Wheels with Bearings are common items in many industrial applications and machinery with unique challenges. Plan Tech specializes in urethane idler wheels with bearings for the most demanding applications. Covered in a soft urethane coating or a rock hard finish with many different additives to choose from to modify the urethanes performance and physical properties to match unique applications for maximum service life and performance.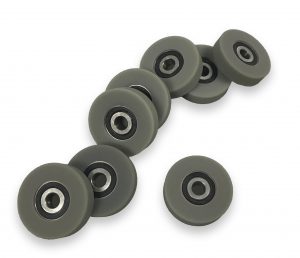 With prototype parts available Plan Tech will learn each and every new application and make suggestions on material that will perform the best in any situation. Plan Tech and also custom profile any urethane idler wheels with bearings to match the product it will be moving or to ride on a track. Each bearing will be processed in our clean room and a chemical bonding agent will be applied directly to the wheel to ensure it will never delaminate or fall apart like press on coverings will. While high volume urethane idler wheels with bearings will be molded to size Plan Tech can also machine idler wheels with no tooling cost to start up.
Plan Tech can purchase a high-quality bearing of your choice from world leading bearing manufacturers or any special bearing may be provided to us for the coating process. Most urethane idler wheels with bearings are recommended in a 95A hardness due to its ability to absorb an impact and return to the original size even after years of abuse in just about any environment. 95A Material also will absorb vibrations that would normally be transferred to the machine in a steel idler wheel was in place instead. Our material will operate smoothly and often times outlast OEM replacements and similar material 3:1.Plan Tech also has an outstanding team of dedicated employees with exceptional talents designing and manufacturing urethane molded parts. We also are very proud of the "company we keep." Our customers include many Fortune 500 companies, most of whom have been customers for 20+ years. Their drive to become industry leaders has helped us do the same.
Please Contact us for further details or to answer your questions about cast urethane idler wheels with bearings!