Urethane inverted hole forms are a great solution when hole forms fail or are not available in the desired specification for your custom application. Our exceptional team of engineers is capable of molding urethane inverted hole forms to any size in our fully equipped in-house machine shop using speed and precision to ensure they are of world-class quality.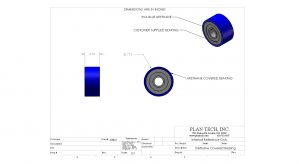 Our ability to produce high-volume urethane inverted hole forms at a fast turnaround is second to none in the industry, and our urethane inverted hole forms are renowned for their enhanced physical properties. No other brand in the sector produces polyurethane inverted hole forms that offer better abrasion and chemical resistance as well as long service life and impressive ability to resist wear than us. Also, you can depend on the impressive performance ability our urethane inverted hole forms even in environments with harsh conditions.
We have a large variety of unique additives which we add to our urethane parts to further improve their physical properties. Ours is the go-to company where all urethane needs are met. Having been in the business of manufacturing premium quality urethane products for three decades, our expertise and experience can, therefore, come handy in your quest of becoming or maintaining your leadership status in your industry. Secondary equipment includes sheet metal, welding, grinding, automated cutoff, broaching and more. We offer complete manufacturing capability for the inserts or cores required for urethane rollers, wheels, bearings and all of your custom urethane parts.
Please Contact us for further details or to answer your inverted hole forms questions!