Urethane joint liners manufactured by Plan Tech are produced using the standard manufacturing process. They are economical, abrasion-resistant, have impressive lining integrity and very high-temperature resistance.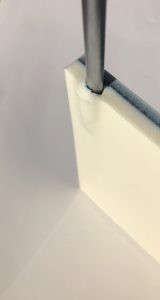 Urethane is preferred in the production of urethane joint liner because of its unique properties. Characteristic properties of polyurethane, which makes it the best material for the production of urethane joint liners includes:
Flexibility
High impact strength
It is reasonably economical
High abrasion resistant
Resists cuts and tears
Urethane can be molded into different sizes and weights
Urethane can be customized into a variety of different options
Urethane is naturally resistant to chemicals, abrasion, tearing and cutting.
At Plan Tech, we help our clients understand the area in which the urethane joint liner will be applied. The precise knowledge of the application will help in determining the best urethane joint liner that will be recommended. Our engineering team has done an excellent job of installing and testing urethane joint liner that we have used in our scrubbers and reactors.
During the manufacturing process of our urethane joint liner, we make sure that the chemical resistance, hardness and other required properties are used appropriately. Plan Tech strives to use the latest in design software technology for the designing of complex urethane molds. We utilize SolidWorks to design all of our open face and compression molds per customer specifications. When we have completed our design that has been approved by the customer we machine them using CAMWorks at our in-house machine shop. This creates a faster "concept to production" environment to produce superior parts for our customers. Below is a list of the software used for designing urethane molds:
CAMWorks: CAMWorks is the most advanced CAM software available and is fully integrated inside SolidWorks. In CAMWorks the design and manufacturing model become one-and-the-same. Any changes to the design are automatically updated in the machining operations and tool paths, thereby eliminating the need to constantly reprogram parts due to design changes.
Are you interested in Urethane Joint Liners? Please Contact us so we can help solve your requirements and work with you on your specific application!