Urethane knife handles are one of the high precision urethane products we manufacture in our fully equipped cast polyurethane facility and out in-house machine shop. We produce knife handles using the best of polyurethane materials from world-renowned chemical manufacturers, and our highly skilled team of experts are well vast in the art of creating urethane knife handles that are of world-class quality. The physical properties of our urethane knife handle are second to none in the industry, and we have additives which we add to our urethane on demand to further enhance their property.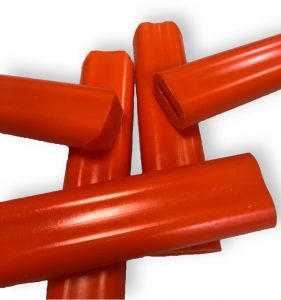 Our polyurethane knife handles are designed to be naturally hard, they are polished beautifully and are shiny enough that they really don't need anything else for the finish. They are known to be as durable as can be — and tolerant of abuse or extremities. They do not quickly wear away by hand contact and skin oils like other conventional materials.
We work hard to provide affordable and innovative urethane knife handles for the cutlery industry. We build our products right here in the U.S.A. Plan Tech's urethane knife handles are not just known for its durability; our knife handles are also abrasion, corrosion, and chemical resistant, they offer tight tolerance and can be custom made to virtually any design you have in mind. Whether you are a start up company or global leader, we can add value to your products with our strong engineering support, urethane polymer experience and constant focus on meeting all delivery requirements. Our rapid prototyping capabilities have also received particularly positive feedback – we frequently go from "Print to Part" in 10-15 business days!
Everything we manufacture is MADE IN THE USA and our production capabilities include:
In-house custom mold manufacture
Waterjet cut urethane parts
Automated adhesive application for high strength urethane bonding to metal and non-metallic substrates
Open cast, rotational, compression and liquid injection molding
High speed automated and manual finishing equipment
Post-secondary assembly
World class metal preparation
On-site testing
Full in-house machine shop with multiple CNC mills, lathes, grinders, welding and sheet metal fabrication
Are you interested in cast Urethane Knife Handles? Please Contact us so we can help solve your requirements and work with you on your specific application!