Urethane label rollers are the ideal choice for high driving performance; they provide solutions other materials cannot offer. At Plan Tech, we manufacture only the very best of these products using high-quality material from renowned chemical producers. Our urethane label rollers rank among the best when it comes to performance with physical properties that are second to none in the industry.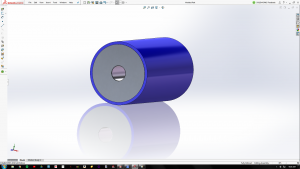 Plan Tech's utilization of speed and precision ensures our urethane label rollers offer outstanding ability to resist wear, chemicals,  abrasion as well as corrosion. They are also capable of resisting impact as well as withstanding harsh environmental conditions even after years of being repeatedly used.
We manufacture all of the urethane parts or products with custom precision our Fortune 500 customers have come to expect. This is a factor behind the high performance and long service life of our urethane label rollers coupled with a world-class in-house team of engineers who leave no stone unturned in ensuring all of the products are of premium standard.
We boast one of the most equipped in-house machine shop in the industry with state of the art facilities that are second to none in the industry. So, regardless of the profile or specification of your urethane label rollers, we can achieve it. Plan Tech also has an outstanding team of dedicated employees with exceptional talents designing and manufacturing urethane molded parts. We also are very proud of the "company we keep." Our customers include many Fortune 500 companies, most of whom have been customers for 20+ years. Their drive to become industry leaders has helped us do the same.
Whether you are a start up company or global leader, we can add value to your products with our strong engineering support, urethane polymer experience and constant focus on meeting all delivery requirements. Our rapid prototyping capabilities have also received particularly positive feedback – we frequently go from "Print to Part" in 10-15 business days – Everything we manufacture is MADE IN THE USA!
Are you interested in Urethane Label Rollers? Please Contact us so we can help solve your requirements and work with you on your specific application!