Urethane lined elbows in a designed piping system are essential to managing wear in piping directional changes. Our polyurethane lined elbows are simply the perfect choice for industries due to their superior performance ability when compared to products made from other materials. The custom lined elbows manufactured by our world-class team of engineers are produced from the very best of urethane materials from internationally recognized chemical producers.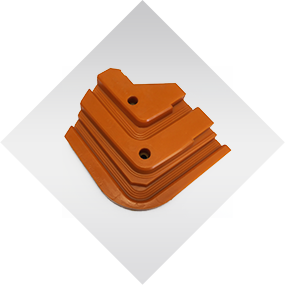 Using the state of the art facility in our in-house cast polyurethane manufacturing facility and machine shop for the manufacture of elbows ensures that our rubber lined elbows can be relied on for enhanced performance ability and remarkable service life. They are produced with speed and precision and are chemical, corrosion and abrasion-resistant.
Our engineers who are capable of producing rubber lined elbows that meet the requirements of any specification or profile have the technical know-how to handle your urethane lined elbows from design to completion.
With our over 30 years' experience of producing only the very best urethane parts, we are proud to say that we are a leading brand in the industry. Partnering with us is, therefore, a step in the right direction if you aspire to be or maintain your brand's leadership status in your industry. For over 30 years we have focused on using speed and precision to manufacture the highest quality industrial cast urethane parts to our customers. A particular strength is the breadth of our in-house capabilities such as urethane compression molding and grinding urethane parts which, when combined with our extensive experience, enables us to deliver tight tolerance custom urethane parts while maintaining the quality control and cost-effectiveness our customers require. The tests are performed according to an established set of standards provided by an accredited testing organization such as the Society for Testing and Materials (ASTM) who define the procedures in detail.
Are you interested in Urethane Lined Elbows? Please Contact us so we can help solve your requirements and work with you on your specific application!