Urethane load bearings are produced at Plan Tech using high-quality material from world leading chemical manufacturers. Plan Tech has a variety of ways to produce urethane load bearings depending on the application required and profile of the urethane coating.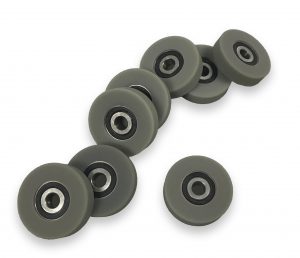 In a lot of applications Plan Tech will media blast the OD of the load bearing and apply bonding agent directly to the bearing. During production Plan Tech will pour the urethane material directly onto each bearing for a urethane to bond strength greater than the urethane material. Other ways Plan Tech can produce urethane load bearings is by over-molding each bearing and machining a profile into each wheel.
For lower-cost urethane load bearings, Plan Tech can also grind and machine cut a tube to produce a tire and press each tire onto the cam follower for low-stress applications. Any hardness or color urethane load bearings are available at Plan Tech with rapid turn around. Often times we can produce coated urethane load bearings in less than a couple of weeks. Custom tooling can be produced at Plan Tech for high volume production of urethane coated load bearings. Plan Tech can also reproduce OEM load bearings from a sample part for often times less than OEM urethane bearings. Our urethane material will meet or beat OEM physical properties with the ability to change the profile or material for unique applications.
Our engineering department can turn your idea, sketch, drawing or CAD file into custom urethane load bearings. We will reverse engineer to recreate any urethane part for production or one-off urethane pieces. The engineering department utilizes SolidWorks and our machine shop uses CamWorks for 3 axis milling. Our equipment includes CNC mills, lathes, polyurethane grinders as well as a state of the art urethane waterjet cutting machine. Secondary equipment includes sheet metal, welding, grinding, automated cutoff, broaching and more. We offer complete manufacturing capability for the inserts or cores required for urethane rollers, wheels, bearings and all of your custom urethane parts.
Please Contact us for further details or to answer your urethane bearing questions!