Urethane mandrels are readily machined at Plan Tech. We manufacture rubber mandrels which are used to clamp or grip a material. They can also be used to bend the exhaust of automobiles, metal rings and in the production of molten glass. Plan Tech manufactures different types of urethane mandrels such as the urethane chuck mandrel, the urethane dead bull ring mandrels, and urethane live bull ring mandrels.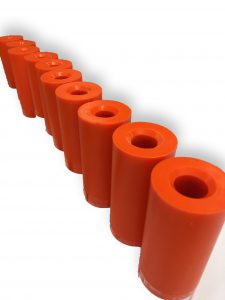 Features of Plan Tech Mandrels:
Dual durometer to increase friction and minimize
Can be made to have removable nose pieces to increase the life span of the urethane mandrels
Plan Tech mandrels can be fitted ton any reel, style, size or shape
Lightweight urethane materials for easy and quick installation
Pumpkin toothed, straight or serpentine edges to fit your mandrel
Advantages of Plan Tech Mandrels:
Plan Tech mandrels can be custom made to your specifications
Our mandrels are cost effective
They offer a greater coefficient of friction compared to plastic or steel
They can be grooved to help with oil relief
Our mandrels can be made of different durometers or dual durometers
They can also withstand higher temperatures
The inactive or downtime of your company can cost you shortage in production as well as man-hours if you settle for anything less than a superior product material.
So what exactly should you take into consideration when deciding what material to purchase? The following should help answer the above question.
RESISTANCE TO OZONE AND OXYGEN
Where Silicon, UHMW, and Nylon will fail you in resisting Ozone and Oxygen, Plan Tech's polyurethane's will efficiently do the opposite – which is, resist Ozone and Oxygen.
EXTREME TENSILE, TEAR STRENGTH AND ABRASION RESISTANCE
Before you purchase any material, make sure it is capable of holding up extremely to tensile stress and has a high-performance tear strength as well as resistance to abrasion. You certainly wouldn't find such capabilities in Silicon, UHMW and Nylon materials. But you can trust Plan Tech polyurethane products to offer such quality performance.
Are you interested in cast Urethane Mandrels? Please Contact us so we can help solve your requirements and work with you on your specific application!