Urethane metal forming pads are one of the numerous high-quality urethane products designed and manufactured in the state of the art cast polyurethane manufacturing facility and in-house machine shop at Plan Tech.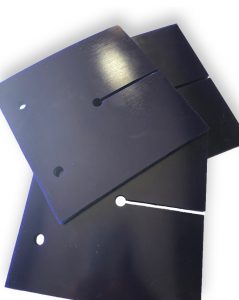 When considering materials for use in metal forming applications, engineers prefer urethane as it is the strongest, most reliable choice. The fact is metal-working machinery that incorporates urethane parts is likely to be more reliable and last longer. Rubber metal forming pads are used in fluid forming processes, hydraulic presses, and for general metal forming by a variety of industries including aviation, aerospace, and automotive.
Why is urethane considered the best material for metal forming pads?
Urethane's durability and its ability to resist high forming pressures make it the ideal material choice for metal forming pads.  These characteristics are particularly important when dealing with intricate shapes and designs. Also, thermoset urethane is incredibly strong, making it the perfect material for use in metal forming applications. Urethane offers consistent pressure distribution which in turn helps prevent crimping and other defects. As engineers, we all know metal forming applications require the kind of intense performance that cast urethane delivers.
Now, because of cast urethane's elastomeric properties, urethane metal forming pads can withstand high amounts of pressure, resist stressors like abrasion, corrosion, and high heat, and extend the life of the machinery in which they are used. Polyurethanes are formed by reacting a polyol (an alcohol with more than two reactive hydroxyl groups per molecule) with a diisocyanate or a polymeric isocyanate in the presence of suitable catalysts and additives. Because a variety of diisocyanates and a wide range of polyols can be used to produce polyurethane, a broad spectrum of materials can be produced to meet the needs of specific applications. Polyurethane is very similar to a rubber or plastic. Unlike nylon or UHMW, urethane can be compounded to produce very soft parts, as low as 30A Durometer, or up to very hard, 75D Durometer. Polyurethane is ideal in high demand applications were normal rubber would fail.
Are you interested in Urethane Metal Forming Pads? Please Contact us so we can help solve your requirements and work with you on your specific application!