Urethane Molded Vacuum Chucks can be custom made and manufactured by Plan Tech. Made from 100 percent pure urethane they offer nothing short of the best properties when compared to others.
Ability to absorb moisture
Ability to withstand harsh environment
High tensile strength
High-temperature capacity
High abrasion resistant property
Optimal elasticity
We have a team of experienced engineers that incorporate a unique polyurethane formula to manufacture polyurethane vacuum chucks that guarantee years of long-lasting operation. We produce quality vacuum chucks from polyurethane. These Urethane Molded Vacuum Chucks make your machinery perform better and increase its lifespan.
With over 30 years of experience in the production of rubber molded vacuum chucks and other polyurethane related products, our teams are made up of innovative and dedicated professionals whose motivation is based on high positive customer service and quality delivery. We offer quality, durable, and top of the line polyurethane vacuum chucks.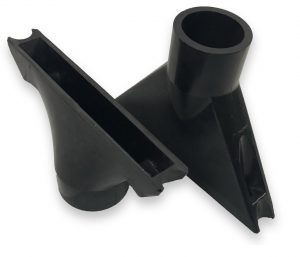 Plan Tech manufactures polyurethane molded vacuum chucks that are not just sturdy or easily absorb vibration, they are also resistant to oil, harsh chemicals and other solvents. We are committed to producing superior-high-quality polyurethane vacuum chucks to all our customers and prospects. Polyurethane is very similar to a rubber or plastic. Unlike nylon or UHMW, urethane can be compounded to produce very soft parts, as low as 20A Durometer, or up to very hard, 75D Durometer. Polyurethane is ideal in high demand applications were normal rubber would fail. The directory of test methods for cast urethane parts that are specified by ASTM are (a specific test method could vary):
Coefficient of Friction: (ASTM D1894)  A measure of the amount of resistance that a surface exerts on or substances moving over it, equal to the ratio between the maximal frictional force that the surface exerts and the force pushing the object toward the surface.
Are you interested in Urethane Molded Vacuum Chucks? Please Contact us so we can help solve your requirements and work with you on your specific application!