Urethane molded wear plates are cast at Plan Tech using raw materials that are produced from world-class chemical companies. We have them available in different shapes, hardness, and sizes and can also have them customized to meet the exact requirements of any custom application.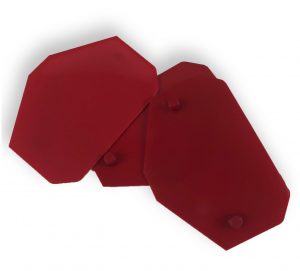 Along with other urethane products, we have been manufacturing urethane molded wear plates over the past three decades which makes us one of the go-to companies in the industry where the requirements of all polyurethane molded wear plates can be met with perfection regardless of the application.
Over the years we have consistently produced rubber molded wear plates that offer superior physical properties. The secret behind the consistency in quality is the sophisticated types of machinery that are available in our state of the art in-house machine shop as well as our application of speed and precision. Therefore, it doesn't matter the quantity or quality of molded wear plates you need for your application you can count on our exceptional team of technicians to meet your demand in record timing without compromising quality.
With our polyurethane molded wear plates, you are assured of quality products that offer remarkable resistance against abrasion and chemicals. Also, our rubber molded wear plates offer excellent load bearing capacity and outstanding durability. Plan Tech a leader in cast urethane manufacturing, process's urethane additives from the world's leading chemical companies. Whether its enhanced lubricity for high abrasion resistance applications or for anti-static wheels for shoppers who don't want to be zapped touching a metal cart. Having more than 30 years experience in the polyurethane industry provides Plan Tech the specific knowledge of incorporating polyurethane additives:
Flame Retardant Urethane Additives: PAG is a well-established manufacturer and global supplier of flame retardants and smoke suppressants for polyurethane applications warehousing material throughout the United States, PAG is able to respond to customers in a timely fashion and provide cost savings. PAG Holdings is committed to providing the highest quality products with unsurpassed service.
Are you interested in cast Urethane Molded Wear Plates? Please Contact us so we can help solve your requirements and work with you on your specific application!