Urethane motors mounts are the perfect replacement for their rubber counterparts which have poor wear resistant ability and cause damaging vibration. The urethane motor mounts are manufactured in a cast urethane facility second to none. At Plan Tech we have a fully equipped machine shop that has state of the art facilities, giving it some incredible physical properties. They enhance the ability to resist vibration, abrasion and they are also capable of preventing engine flexing.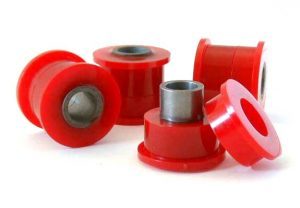 Our urethane motor mounts outstandingly resist all types of automotive chemicals such as oil, coolants, grease, acids as well as road debris. The ability of Plan Tech's motor mounts to resist extreme automotive temperature is second to none. Our engineers who are vastly experienced in producing world-class urethane parts have the technical know-how to manufacture rubber motor mounts that meet the requirements of any application. And our application of speed and precision makes it possible to maintain consistency in quality and produce high volume urethane parts in record timing. When it comes to turning urethane ideas, sketch, or drawings into premium grade motor mounts, we are the go-to company. Therefore, you can rely on us to masterfully handle your motor mounts project from design to the actual production and with our high level of expertise; you can be certain of nothing short of best in class production.
The machining of custom polyurethane parts and components requires special skills and dedicated equipment. In many instances, we have developed custom equipment for cutting, trimming, staking and deburring per our customers' requirements. Machining cast urethane parts require specialized equipment and training. Here at Plan Tech we utilize 3D CAD Design Software Solidworks and make all of our own molds in-house for speed, accuracy and precision. We control the entire process from design to manufacture. Custom mold making is at the very core of what we do.
Please Contact us for further details regarding polyurethane motor mounts!