Urethane nose rollers manufactured by Plan Tech are the best-performing, longest-lasting nose rollers available. Plan Tech has been producing superior performance products for the industrial marketplace for more than 30 years and is well known for its abrasion-resistant and highly resilient urethane nose rollers.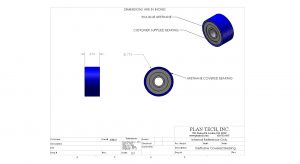 Some of the urethane nose rollers we produce are tapered, preventing rocks and other debris from getting trapped under the belt. The taper is also designed to help prevent mud from building up on the roller. With our urethane nose rollers, you are guaranteed of enhanced wear property, impressive chemical and corrosive resistance ability, and long service life. Also, our specialty nose rollers offer a remarkable ability to withstand harsh environments.
Our team of experienced engineers will help you come up with a design or improve your vision/idea of what you have. We manufacture custom made rubber nose rollers based on your specifications. Every part we make is manufactured from a concept to actual production with the highest quality at our in-house facility. Our in-house capabilities reduce production cycle time from receipt of order to final delivery, and we use advanced technologies to ensure your order meets all critical dimensions. We are committed to delivering a world class service to our clients, as we always do. Plan Tech strives to use the latest in design software technology for the designing of complex urethane molds. We utilize SolidWorks to design all of our open face and compression molds per customer specifications. When we have completed our design that has been approved by the customer we machine them using CAMWorks at our in-house machine shop. This creates a faster "concept to production" environment to produce superior parts for our customers. Below is a list of the software used for designing urethane molds:
SolidWorks: SolidWorks is a solid modeler, and utilizes a parametric feature-based approach to create models and assemblies. DS Solidworks Corp has sold over 1.5 million licenses of SolidWorks worldwide. This includes a large proportion of educational licenses. The Sheffield Telegraph comments that Solidworks is the world's most popular CAD software. Its user base ranges from individuals to large corporations and covers a very wide cross-section of manufacturing market segments.
Are you interested in cast Urethane Nose Rollers? Please Contact us so we can help solve your requirements and work with you on your specific application!