Urethane pinch rollers manufactured by us are made from top quality polyurethane resin produced by globally recognized chemical companies. Cast urethane pinch rollers are one of our specialty urethane products which we have been manufacturing for the past 30 years. The urethane pinch rollers produced in our in-house machine shop that is fully equipped with state of the art facilities are nothing short of world-class quality, and that's one of the reasons our urethane pinch rollers stand apart from those of other brands.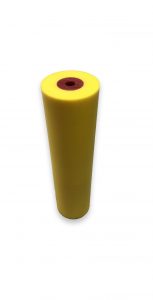 Plan Tech's urethane pinch rollers are known for their enhanced physical properties which we have been able to maintain over the years due to our application of speed and precision. We also, boast a team of well adept engineers whose technical prowess coupled with our first-rate machinery allows us to produce only the best in quality urethane parts. It, therefore, isn't a surprise that our pinch rollers have been tried, tested and proven to offer remarkable wear, abrasion, chemical, and corrosion resistance. Our highly skilled and experienced engineers are capable of producing urethane pinch rollers of any profile or specification. Therefore, no matter the profile of urethane pinch rollers you seek, we guarantee you will find from our line of premium quality urethane pinch rollers. No other pinch rollers in the industry offer better performance capability and service life than ours. We are the go-to company where idea or sketch of polyurethane pinch rollers can be transformed into a top-notch product.
Our engineering department can turn your idea, sketch, drawing or CAD file into custom urethane parts. We will reverse engineer to recreate any urethane part for production or one-off urethane pieces.The engineering department utilizes SolidWorks and our machine shop uses CamWorks for 3 axis milling. Our equipment includes CNC mills, lathes, polyurethane grinders as well as a state of the art urethane waterjet cutting machine. Secondary equipment includes sheet metal, welding, grinding, automated cutoff, broaching and more. We offer complete manufacturing capability for the inserts or cores required for urethane rollers, wheels, bearings and all of your custom urethane parts.
Please Contact us for further details or to answer your urethane molded parts design questions!