Urethane Pipeline Pigs are produced at Plan Tech in a variety of styles and sizes, and we take measures to ensure we only utilize top quality polyurethane as raw materials for guaranteed long service life.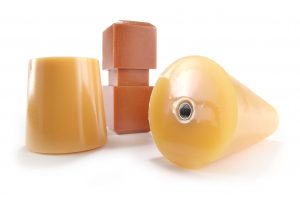 It doesn't matter what your demands are, be it Cup, Flex or Plus design with our Urethane Pipeline Pigs, you can count on our team of technicians to satisfactorily meet the requirements of your application and requirements. Speed and precision are some of the core measures we apply at Plan Tech to ensure that our Urethane Pipeline Pigs like all of our other processed urethane products are consistent of topnotch quality and delivered in record timing. Our Urethane Pipeline Pigs can be relied upon to seal full port valves and traverse as much as 90 and 180 degrees tees which make them an ideal choice for thorough cleaning, purging and batching.
And just as it is customary with all of Plan Tech's products, our Urethane Pipeline Pigs boast an outstanding ability to resist wear, abrasion, chemicals as well as extreme weather conditions. Also, the capability of our Urethane Pipeline Pigs to perform optimally in unfavorable areas is second to none in the sector thanks to the exceptional skill set of our manufacturing team whose technical know-how is up there among the best in the world.
Turning ideas, designs or sketches into enviable, marketable and profitable finished products is what we do best at Plan Tech. Therefore, feel free to trust us with your Urethane Pipeline Pigs project and you will be impressed by our distinguished level of expertise. Whether you are a start-up company or global leader, we can add value to your products with our strong engineering support, polyurethane expertise and constant focus on meeting all delivery requirements. We also are very proud of the "company we keep." Our customers include many Fortune 500 companies, most of whom have been customers for 20+ years. Their drive to become industry leaders has helped us do the same. Our rapid prototyping capabilities have also received particularly positive feedback – we frequently go from "Print to Part" in 10-15 business days. Everything we manufacture is MADE IN THE USA!
Are you interested in cast Wear-Resistant Urethane Pipeline Pigs? Please Contact us so we can help solve your requirements and work with you on your specific application!