Urethane pipeline rollers which we design and manufacture are renowned for their long service life. Like all urethane pipe rollers, our's help in protecting the exterior of pipe coatings or jacket during installations. But unlike most others, our urethane pipeline rollers boast high-performance ability and long service life all at an affordable budget. The fact that we only utilize world-class materials for the manufacture of our products ensures our urethane pipeline rollers are among the best the industry has to offer. And you can trust our highly skilled team of engineers to mold pipeline rollers with tight tolerance.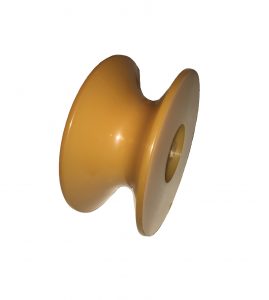 And with our special additives which we add to our urethane materials to boost their physical properties and add lubricity. Our urethane pipe rollers are, therefore, capable of withstanding environments with extreme conditions due to their enhanced tear and wear resistance ability. Besides the boosting of the efficiency of our products, our special additives also help in ensuring our pipe rollers are kept clean for smooth functioning. Therefore, our customers or prospects can trust our team of highly skilled engineers to convert their ideas or simple sketch into the design and manufacture of classic urethane pipe rollers that will meet the specific requirements of their applications. Our urethane pipeline rollers are for Heavy Duty Use used for Petroleum and Natural Gas Pipelines. Our heavy duty urethane pipeline rollers are used with natural gas pipelines and electric lines. Our custom pipeline rollers are non-sparking and act as a great insulator as well.
Our engineering department can turn your idea, sketch, drawing or CAD file into custom urethane pipeline rollers. We will reverse engineer to recreate any urethane part for production or one-off urethane pieces. The engineering department utilizes SolidWorks and our machine shop uses CamWorks for 3 axis milling. Our equipment includes CNC mills, lathes, polyurethane grinders as well as a state of the art urethane waterjet cutting machine. Secondary equipment includes sheet metal, welding, grinding, automated cutoff, broaching and more. We offer complete manufacturing capability for the inserts or cores required for urethane pipeline rollers, wheels, bearings and all of your custom urethane parts.
Please Contact us for further details or to answer your urethane pipeline rollers design questions!