Urethane rail wheels are in use all over the world today, from the hot desserts of India to the cold tundras of Alaska. For over 30 years Plan Tech has established a reputation in the industry for outstanding urethane products at reasonable prices. We have the expertise, experience, and commitment to ensure that our customers' formulations are unique, of high-quality and competitive in the market. Our dedicated team of technicians are passionate about what they do and can produce urethane rail wheels that will meet your individual needs.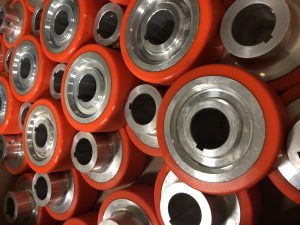 Made of proven, durable urethane and strong enough to take the abuse of neglected, abandoned rails, our urethane rail wheels are capable of carrying heavy loads and of transmitting impressive driving forces. They are non-conductive, won't set off crossings and offer quiet and smooth running. We supply according to your samples or drawings and can also produce custom urethane rail wheels to your precise designed specifications. We can even re-coat urethane on your existing rail wheels.
So whether you are looking to build a camera trolley or any urethane guide wheel systems (including containment lids for nuclear power stations), Plan Tech has got you covered. Our team of specialized urethane engineers can help you formulate compounds to meet your specific project needs. For over 30 years we have focused on using speed and precision to manufacture the highest quality industrial cast urethane rail wheels to our customers. A particular strength is the breadth of our in-house capabilities such as grinding urethane parts which, when combined with our extensive experience, enables us to deliver tight tolerance custom urethane parts while maintaining the quality control and cost effectiveness our customers require. The tests are performed according to an established set of standards provided by an accredited testing organization such as the Society for Testing and Materials (ASTM) who define the procedures in detail.
Please Contact us for further details about Urethane Rail Wheels!