Urethane rebound stops that we manufacture offer different diameters, grips, speed and durometer ratings are manufactured here at Plan Tech. The rebound is a very important factor because it determines how fast you can roll while using it. Our urethane rebound stops are made from pure polyurethane because of the strong properties of urethane. An important factor Plan Tech engineers consider is the ability of the urethane rebound stops to return to its original shape after an external force is applied. This quality is very vital because it is used to minimize the rolling resistance of the rubber rebound stops.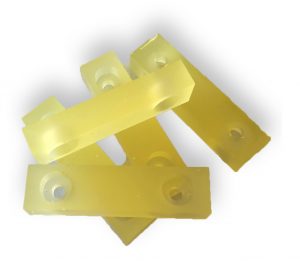 Plan Tech poly rebound stops are specially customized bearing in mind these factors:
Softer wheels have more grip, especially over rougher surfaces
Hard wheels slide more suddenly but slide longer
Urethane high rebound formulas skate faster, especially over rough surfaces
Soft wheels generally have a more predictable slide
Harder wheels have less grip on rougher surfaces but can have more grip on smoother surfaces
Polyurethane is used in the manufacture of rubber rebound stops because they have high abrasion resistance and tear strength which makes them the best choice for the production of skateboard stops. With Plan Tech you are guaranteed to get the best deal at an affordable price. Plan Tech a leader in cast urethane manufacturing, process's urethane additives from the world's leading chemical companies. Whether its enhanced lubricity for high abrasion resistance applications or for anti-static wheels for shoppers who don't want to be zapped touching a metal cart. Having more than 30 years experience in the polyurethane industry provides Plan Tech the specific knowledge of incorporating polyurethane additives:
Superior Abrasion Resistance Additives: Plan Tech is a leading cast polyurethane supplier that also has a custom line of additives. One of the most commonly used additives is Armorglide providing superior abrasion resistance for high use applications.
Are you interested in cast Urethane Rebound Stops? Please Contact us so we can help solve your requirements and work with you on your specific application!