Urethane rectangular bars are made of tough, crack and abrasion-resistant polyurethane, which generally lasts longer than rubber and plastic. They have a greater load-bearing capacity, higher abrasion, and tighter tolerances. There are numerous reasons why urethane rectangular bars are chosen over rubber and plastics.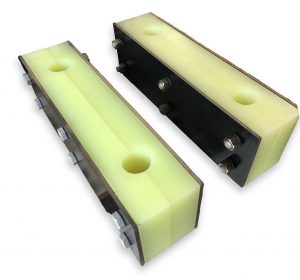 Firstly, this is because urethanes have replaced metals in sleeve bearings, wear plates, rollers, sprockets in heavy duty machines. More so, urethane can change its shape when an external force is applied, but its volume will remain constant, polyurethane rectangular bars also produce high, uniform and continuous counter pressure under load. However, when this load is removed, it quickly regains its original shape, which indicates its high elastic property.
Some of the major advantages are their ability to form and hold metal without marring its surface finish, it also exhibits a high level of non-compressibility and resiliency. In addition, urethane rectangular bars have excellent noise abasement property, flex life and are tear resistant. Plan Tech makes urethane rectangular bars by pouring high-grade liquid cast polyurethane resins in open cast molds; we provide custom diameters, lengths, and hardness including any color of urethane rectangular bars of your choice. Our team of engineers and technical staff ensure that your custom urethane rectangular bars are manufactured to meet your unique requirements.
Plan Tech a leader in cast urethane manufacturing, process's urethane additives from the world's leading chemical companies. Whether its enhanced lubricity for high abrasion resistance applications or for anti-static wheels for shoppers who don't want to be zapped touching a metal cart. Having more than 30 years experience in the polyurethane industry provides Plan Tech the specific knowledge of incorporating polyurethane additives:
High Durometer Urethane Additives:  Air Products Founded in 1940 provides world-leading food curative that can be used in the manufacture of polyurethane elastomers intended to contact dry food. Air Products has built a reputation for its innovative culture, operational excellence.
Are you interested in Urethane Rectangular Bars? Please Contact us so we can help solve your requirements!