Urethane riser rings produced by us in our fully equipped in-house cast urethane facility are made from tough, standard grade urethane, which makes them the ideal choice of riser rings for a variety of applications. We apply speed and precision and take into account every manufacturing detail to ensure that our manufactured urethane riser rings are capable of holding up to or withstanding a wide range of application including those that are highly demanding. As one of the largest producers in the United States of polyurethane riser rings in the industry, we offer custom formulas, sizes, durometers, and colors.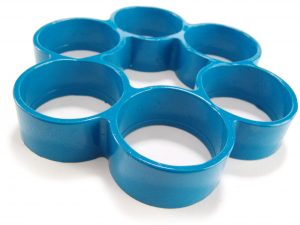 No other urethane riser rings produced by other companies can offer better abrasion, wear and chemical resistance than our riser rings and their ability to maintain their high-performance ability even after being used for several years are second to none. Our exceptionally gifted engineers can turn your mere ideas or sketch into premium quality urethane riser rings, and we are more than capable of meeting your high-volume demand for specific applications in record timing because manufacturing custom-made urethane riser rings that meets your specifications is one of our specialties. Finally, our urethane riser rings will provide an affordable solution for all your utility and road maintenance needs. No other company in the industry boasts a better commitment to customer satisfaction than our company.
Our machine shop includes CNC Lathes, Mills and Grinders for machining cast urethane riser rings. We also have manual mills as well as a sheet metal and welding area. In addition, we have a Flow Water jet with 48×96 inch sheet capabilities and can cut a list of materials like Polyurethane, Steel, Stainless Steel, Aluminum, Carbon fiber, and most plastics. The machining of custom polyurethane parts and components requires special skills and dedicated equipment. In many instances, we have developed custom equipment for cutting, trimming, staking and deburring per our customers' requirements.
Please Contact us for further details regarding riser rings!