Urethane roller chain sprockets are extremely popular and one of Plan Tech's most required custom urethane molded parts. With thousands of different application possibilities, Plan Tech is able to produce tooling to match any profile roller chain and mass produce urethane roller chain sprockets in high volume with rapid turn around.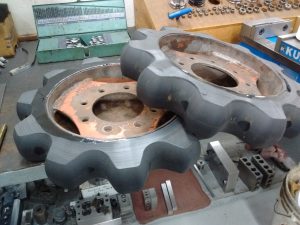 Our hot cast TDI urethane will outperform nylon and similar materials. Most commonly we hear that our urethane roller chain sprockets drive a track in food processing equipment on large machinery. Urethane is ideal due to its great ability to absorb an impact and return to its original size even after years of abuse. Urethane roller chain sprockets will also adapt for any slight mismatch in the operation or any debris that might get caught in between the sprocket and track.
Most commonly we have found 50D hardness sprockets will have extended service life with great physical properties. FDA tight tolerance urethane roller sprockets are also available with additives like PolyMag available to make the polyurethane detectable in existing X-ray equipment in case of a failure. Plan Tech can also fabricate any hubbed cores or metal inserts for the complete sprocket. Each metalcore or hub will be media blasted with a coating of chemical bonding adhesive before it is molded to ensure a bond strength greater than the tear strength of the material. Our engineering department can turn your idea, sketch, drawing or CAD file into custom urethane roller chain sprockets.
For over 30 years we have focused on using speed and precision to manufacture the highest quality industrial urethane roller chain sprockets to our customers. A particular strength is the breadth of our in-house capabilities such as grinding urethane parts which, when combined with our extensive experience, enables us to deliver tight tolerance custom urethane roller chain sprockets while maintaining the quality control and cost effectiveness our customers require. The tests are performed according to an established set of standards provided by an accredited testing organization such as the Society for Testing and Materials (ASTM) who define the procedures in detail.
Please Contact us for further details or to answer your urethane roller chain sprockets design questions!