Urethane roller covers have numerous application uses from light manufacturing to heavy-duty industrial systems. We produce polyurethane roller covers in a variety of compositions, materials, and textures. Plan Tech's urethane roller covers are made of durable Polyurethane in several durometers. Our team of in-house precision engineers uses the state-of-the-art facilities available in our machine shop to design world-class urethane roller covers.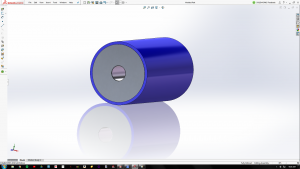 You can also extend the life of existing rollers with our urethane roller covers. The cover functions as a protective barrier to both the roller surface and the materials being conveyed. Our urethane roller covers will not scratch or mar the product or components. They are suitable for diverse applications including systems with steep inclines in which the urethane material used helps to grip and move the product more efficiently. Our poly-roller covers are designed to fit on the O.D. of standard size, providing a cushioned, wear resistant, quieter system. This means they help in reducing noise levels, cushion delicate products, reduce marking and scratching of products, help in moving products down the line and provide traction for incline/declines. In addition to damage reduction and the above-mentioned features, our urethane roller covers offer high friction surface which provides for more secure conveying of goods.
Plan Tech also has an outstanding team of dedicated employees with exceptional talents designing and manufacturing urethane roller covers. We also are very proud of the "company we keep." Our customers include many Fortune 500 companies, most of whom have been customers for 20+ years. Their drive to become industry leaders has helped us do the same. Whether you are a start-up company or global leader, we can add value to your products with our strong engineering support, polyurethane application knowledge and constant focus on meeting all delivery requirements. Our rapid prototyping capabilities have also received particularly positive feedback – we frequently go from "Print to Part" in 10-15 business days! Designing and manufacturing new molds for custom parts is at the core of what we do at Plan Tech. Everything we manufacture is MADE IN THE USA!
Please Contact us for further details or to answer your questions about cast urethane roller covers!