Urethane roller skate wheels are hand cast at Plan Tech in high volume with advanced compression molding technology. Casting urethane roller skate wheels using this technology allows us to create any hardness or color roller skate wheel and custom logos can easily be molded into the skate wheels as well.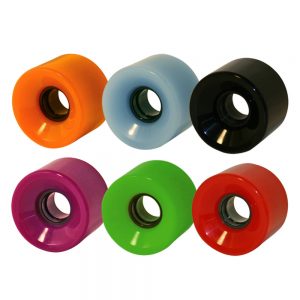 Plan Tech uses only high-performance material and curatives from world chemical leaders with rapid tool design and mold making in-house. Our high-performance urethane material is rated for high load applications where OEM and similar material will not hold up. Our open cast TDI material is extremely tough for any application. Urethane roller skate wheels have the great ability to absorb noise and vibration while providing a long service life. After the urethane is cast we have an in-house state of the art machine shop that will perform any secondary process to machine the urethane roller skate wheels tread to OEM specs or any custom profile. During the final inspection, we will record all dimensions to ensure each and every roller skate wheel meets a tight tolerance and provide any needed inspection report with each shipment. Each year Plan Tech has produced hundreds of thousands of urethane roller skate wheels and understands today's competitive market.
Our engineering department can turn your idea, sketch, drawing or CAD file into custom urethane roller skate wheels. We will reverse engineer to recreate any polyurethane rollers skate wheels for production or one-off urethane pieces. The engineering department utilizes SolidWorks and our machine shop uses CamWorks for 3 axis milling. Our equipment includes CNC mills, lathes, polyurethane grinders as well as a state of the art urethane waterjet cutting machine. Secondary equipment includes sheet metal, welding, grinding, automated cutoff, broaching and more. We offer complete manufacturing capability for the inserts or cores required for urethane rollers, wheels, bearings, urethane rollers skate wheels and all of your custom urethane parts.
Please Contact us for further details or to answer your urethane roller skate wheels design questions!