Urethane Rollers Canada are one of the many world-class urethane products manufactured in Plan Tech's state of the art in-house machine shop that is fully equipped with high-quality machines and equipment. To make sure that our Urethane Rollers Canada are of the highest quality available, we only utilize raw materials from world leading chemical companies who are leaders in their sectors.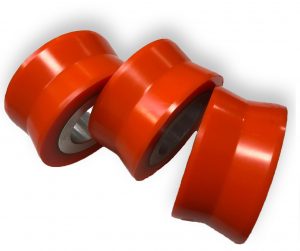 Our urethane rollers canada offer superior properties than those of most other brands in the industry such as their outstanding ability to resist wear, abrasion, corrosion, and harsh chemicals. Plan Tech's Urethane Rollers Canada also possess outstanding ability to withstand unfavorable weather conditions, and you can just as well count on our urethane rollers made for Canada to function at their optimal best after long years of service.
To ensure we consistently produce Urethane Rollers Canada that is of unbeatable standard, our highly experienced and technical team of engineers apply speed and precision during the manufacturing process as is the case with all our urethane products. So, if you have tried other rollers without getting the satisfaction you want, then our Urethane Rollers Canada is the ideal choice for your application requirements. Our engineers can have your rollers customized to suit the specific requirement. Therefore, whatever are your ideas of Rollers you can trust our team of experts to turn them into topnotch urethane rollers made for Canada that will make your manufacturing process stand out from others in your industry.
Using custom urethane parts prevents minor damages from becoming long-term, critical damages that completely break the part down. With impingement abrasion, it's a bit different from sliding abrasion. You can think of impingement abrasion as a rock being thrown at a surface. What is going to prevent the most damage: a surface that is hard and not flexible, or a surface that can absorb the energy of the impact from the rock due to its softer, more resilient material? Custom urethane parts have already been used for decades due to the sole fact that they are so resistant to abrasion. If you are using a project that tends to wear and tear materials, consider using custom urethane parts as that is the most abrasion resistant material available for commercial use.
Are you interested in cast urethane rollers Canada? Please Contact us so we can help solve your requirements and work with you on your specific application!