Urethane rollers notched for snap rings are used as steel inserts with snaps ring grooves or as a precision fit. It is usually used in the machine handling industry or as part of the equipment/machine. Urethane is used in the production of urethane rollers notched for snap rings because of its strong and excellent physical properties.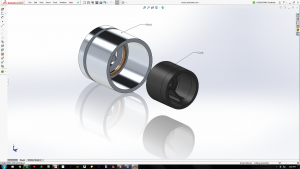 Urethane is known to be wear resistant and can be manufactured in different diameter, ring, grooves, width, and notch. Its high load thrust ability makes it the choicest in the industry. Urethane rollers notched for snap rings are also used in the off-Highway, automotive, aerospace, and oil & gas industries because of its ability to mitigate wear and tear.
Plan Tech specializes in the manufacture of urethane rollers notched for snap rings. Our engineers and technical team will help you determine the best urethane compound that suits your application or equipment. Plan Tech produces the best urethane roller notched for snap rings including other types of urethane rollers such as the urethane V-rollers; urethane feed rollers, and custom made urethane rollers. Please contact us for more information concerning the urethane rollers notched for snap rings or other related urethane products. We ensure that your demand and specification is met precisely. Plan Tech a leader in cast urethane manufacturing, process's urethane additives from the world's leading chemical companies. Whether its enhanced lubricity for high abrasion resistance applications or for anti-static wheels for shoppers who don't want to be zapped touching a metal cart. Having more than 30 years experience in the polyurethane industry provides Plan Tech the specific knowledge of incorporating polyurethane additives:
Anti-Static Urethane Additives:  Lubrizol's Lanco Stat LI 100® additives dissipate static electricity in urethane wheels and custom parts. Since 1928 Lubrizol has engineered products worldwide and with rapid response and excellent customer service. Lubrizol has built a reputation in high-performance additives such as Lanco Stat LI 100® for industries worldwide.
Are you interested in custom Urethane Rollers Notched For Snap Rings? Please Contact us so we can help solve your requirements!