Urethane rollers with counterbored hubs are custom made by Plan Tech and are designed to withstand extreme conditions while maintaining the durability needed in the most demanding industrial applications. We manufacture standard urethane rollers with counterbored hubs of different sizes, durometer, temperature, high/low resilience, and resistance.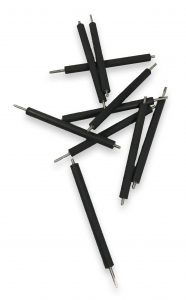 Plan Tech manufactures urethane rollers with counterbored hubs using a variety of materials. Our urethane rollers with counterbored offer excellent shock absorption, reduced vibration, smooth rotation and ability to withstand high temperatures.
Features of Urethane Rollers with Counterbored Hubs Include:
Non–marking
Single or segmented rollers
Void-free molding process
Surface treads
Near –zero run out
Direct – bond to bearings
High abrasion resistance
Include flat, crowned, grooved and rubbed
Our group of experienced polyurethane experts will work with you to determine the right load-bearing, core design and the urethane compound to use in the production of your urethane rollers with counterbored hubs. Urethane rollers produced by Plan Tech are tight tolerance, which helps to increase their running speed to 200 inches per second. Our urethane material offers superior wear resistance and sustained coefficient of friction in paper feed applications. In addition, our urethane rollers can be used in paper converting, mail handling and currency processing machines. Plan Tech a leader in cast urethane manufacturing, process's urethane additives from the world's leading chemical companies. Whether its enhanced lubricity for high abrasion resistance applications or for anti-static wheels for shoppers who don't want to be zapped touching a metal cart. Having more than 30 years experience in the polyurethane industry provides Plan Tech the specific knowledge of incorporating polyurethane additives:
FDA Urethane Additives: Eriez POLYMAG® a leading manufacturer of Metal Detector systems, allows urethane molders to produce FDA Metal Detectable and X-Ray Visible urethane parts for food contact applications that can satisfy varying levels of detectability. Acceptable for repeated contact with food under section #177.21000, subpart F. Can be used in continuous and repetitive contact with dry, aqueous and fatty foods. Typical features of these polyurethanes include outstanding abrasion resistance, high tensile and tear strength, and excellent load bearing capabilities.
Are you interested in custom Urethane Rollers with Counterbored Hubs? Please Contact us so we can help solve your requirements!