Urethane Rollers ? You've come to the right source!
Urethane Rollers are common to be 3' long and have a standard hardness of 70A durometer that the urethane rollers are chemically bonded to an aluminum or steel core. Urethane is a great choice for material because the rollers are capable of handling extreme loads; urethane will also help absorb vibration and shock. Plan Tech manufactures new custom poly rollers, fabricate cores and we also provide fast turnaround times with roller recovering services for used and existing rollers. Many of Plan Tech's industrial clients ask us how we manufacture "abrasion resistant urethane parts". We offer the industries largest selection of high-quality rollers some of which include:
Tight Tolerance Coated Rollers
Hubbed Urethane Rollers: Hubbed rollers are manufactured for a precision fit in high abuse applications. Hubbed rollers are typically coated on a steel or stainless core that can be produced and manufactured in-house. The urethane diameter is ground to a tolerance of +/-.003 for maximum concentricity and service life.
Large Rollers: Large rollers are manufactured at Plan Tech using a high-quality resin that is tailored to the application needed. While most large urethane rollers are coated in 95A hardness – Plan Tech offers a full line of durometers. We can also modify our urethane to enhance lubricity or for antistatic properties.
Keyed Polyurethane Drive Rollers: Keyed Polyurethane Drive Rollers are easily molded with high-quality polyurethane material for the most demanding applications. Plan Tech has a bonding process with a tear strength greater than the urethane material it is adhered to.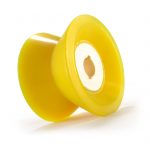 Convex Rollers: Convex coated rollers are used in a wide variety of industrial applications. Convex rollers will typically taper on each half of the roller with a steel or stainless core for bearing applications or a bronze bushing may be installed. Common places you see convex rollers are on boat trailers and industrial packaging equipment.
Profile Ground Rollers: Profile ground rollers are available in almost any design imaginable. Every application has its own unique profile and our engineering department has the manufacturing skills and machinery able to accomplish unique profile ground rollers that will match any profile needed.
Industrial Rollers: Industrial rollers are common to be 3′ long with a bearing pressed on each side of the shaft then coated with a urethane material capable of handling extreme loads. Here at Plan Tech we offer urethane recovering services for industrial urethane rollers.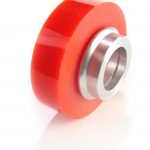 Urethane Encoder Rollers: Urethane encoder rollers have become more common as more equipment is turning to automatic systems. An encoder roller must be precision made as a sensor will need to know exactly how far to rotate the roller for the next step in the automated process. Rotating the encoder rollers with precision is exactly what makes automatic equipment better than operation the machine manually.
Urethane Tapered Rollers: Urethane tapered rollers are custom cast and turned to any profile which typically consists of a steel or stainless shaft as a core for high strength applications. Plan Tech supplies thousands of urethane tapered rollers around the world each year for many different types of applications.
Urethane Idler Wheel Rollers: Urethane idler wheel rollers are designed to operate in any condition. Common urethane idler wheel rollers styles include convex, smooth or concaved profiles to match the applications rolling surface Urethane Idler Wheel Rollers will absorb an impact and return to its original size while retaining a smooth and quiet operation.
We Manufacture All Types Of Rollers
Urethane Conveyor Rollers: Urethane conveyor rollers are commonly made from a steel core coated with polyurethane commonly found in assembly lines. Urethane conveyor rollers are replacing plastic, rubber and metal rollers in today's high demand manufacturing environments. Urethane conveyor rollers help belt drive systems to operate longer with less downtime and lower replacement maintenance costs with short lead times on replacement.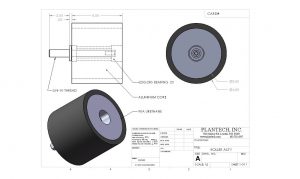 Polyurethane Idler Rollers: Polyurethane idler rollers are excellent against abrasion and wear resistance. With a full line of post-secondary operations, we can finish and assemble polyurethane idler rollers to meet your most stringent specifications that often times hold up better than OEM replacements at a fraction of the cost.
Urethane V-Rollers: Urethane v-rollers are found in many applications including shipping centers and assembly lines. Urethane v-rollers will absorb an impact and return to its original shape even after years of repeated abuse making urethane the number one choice for the material.
Slip-On Rollers:  Slip-on rollers are low cost vs drive rollers and offer the same great physical properties. Available in any hardness or color Plan Tech can hold extremely tight tolerances for urethane slip on rollers. While most consumers will press on the urethane roller sleeve with a guide rod and press urethane will also expand when heated making installation easy.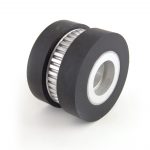 Urethane Feed Rollers: Feed Rollers are used in manufacturing plants and in various pieces of industrial equipment around the world. Adding a urethane coating to the urethane feed rollers will eliminate the steel contact to the product so the product is not damaged. Feed Rollers are non-marking and will provide a smooth and quiet operation for many years.
Urethane Drive Rollers: Drive Rollers are very common in shipping facilities, assembly lines, and industrial equipment. Adding a urethane coating to the urethane drive rollers will eliminate the steel contact to the product and is an ideal choice as urethane will dampen the harsh slamming of a machine or load being applied to the roller.
Types of Coated Rollers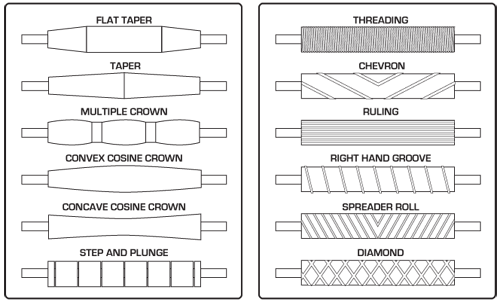 Conveyor Belt Rollers: Urethane conveyor belt rollers are typically made from a chemically bonded bearing coated with a high durometer urethane to create a roller. Several hundred of these custom cast urethane conveyor belt rollers will be fastened to a rack to make a conveyor system.
Coated Sleeved Rollers: Sleeved rollers are cast directly to steel cores or for a slip of fit applications. Custom cast to any length under 4' Plan Tech can rapidly produce urethane sleeved rollers to tight tolerances for the most demanding applications. Our largest customer for coated sleeved rollers manufacturers conveyor belt systems and purchases sleeved rollers with a taper to allow to keep the belt centered.
Straight Rollers: Straight rollers are one of the specialty products that Plan Tech manufactures. Straight rollers can be supplied complete with new shafts or reconditioned to any hardness including extremely soft durometers with a tight tolerance of +/-.005.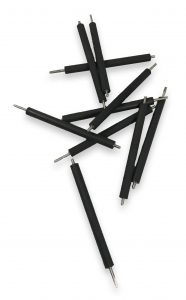 Urethane Hourglass Rollers: Plan Tech has a full stock of high-performance urethane material from world leading chemical companies with a variety of additives to enhance the physical properties of our urethane. Urethane hourglass rollers are available in any hardness or color with custom profiling to match OEM Urethane hourglass rollers or for new custom applications.
Polyurethane Drive Rollers: Polyurethane drive rollers are hand cast into molds and frequently are cast oversized to allow for machining after the polyurethane is finished curing. Plan Tech has also built several specialized custom CNC grinding equipment capable of machining polyurethane drive rollers at a rapid pace with a tight tolerance of +/-.005.
Urethane Idler Rollers: Urethane Idler Rollers are tops in abrasion and wear resistance. Common urethane idler rollers size range from diameters ½" to 6″ and face widths from ½" to 48″. Plan Tech has a full line of post-secondary operations, we can finish and assemble your urethane idler rollers to meet your most stringent specifications. All colors and durometers are available.
                           Abrasion Resistant Rollers
Polyurethane Pipe Rollers: Polyurethane pipe rollers are produced in many sizes to match the profile of the pipe it will be processing. We have found over the years that many shipping warehouses and the oil industry have made special pipe handling equipment requiring a high-quality polyurethane material to handle immense weights and weather conditions.
Radius Rollers: Radius rollers are perfected at Plan Tech with the use of many different custom lathes we have built over the last 30 years. While 95A rollers are much easier to process we have specialized in soft duro (hardness) radius rollers to match any profile or track requirements.
Tension Rollers: Our tension rollers can be cast under any length and we are capable of producing tension rollers that offer tight tolerances even for applications that are highly demanding. Each of our tension rollers is chemically bonded before being media blasted and we carry out an individual inspection on them to ensure they meet the requirements of any application.
Polyurethane Nip Rollers: Our entire range of polyurethane nip rollers are manufactured by our team of engineers who are among the best in the industry, and we use high-grade urethane materials, purchased from world-renowned producers. Our polyurethane nip rollers are available in different sizes and profiles. And we can have them custom made to meet the specific requirements of your application using special additives upon your request.
Pipeline Rollers: Besides the boosting of the efficiency of our products, our special additives also help in ensuring our urethane pipeline rollers are kept clean for smooth functioning. Therefore, our customers or prospects can trust our team of highly skilled engineers to convert their ideas or simple sketch into the design and manufacture of classic pipeline rollers that will meet the specific requirements of their applications.
Polyurethane Hubbed Drive Rollers: Be it a simple sketch or existing part, our team of designers will work with you like an extended arm of your workforce on every detail of your polyurethane hubbed drive rollers. Polyurethane hubbed drive rollers mostly consist of a steel shaft with a keyway.
Plan Tech has a state of the art machine shop ready to handle all your custom rollers. We have several machines set up for specialty rollers that can produce turned finishes requiring tight tolerances or regular spacing, tapers, grooves, crowned finish or any other detail with diameters to 20″ and Lengths to 4′. Soft durometer poly rollers are also no problem for us. We routinely perform tests to our customer's specifications – these tests are performed to an established set of standards provided by an accredited testing organization such as the Society for Testing and Materials (ASTM) who define the procedures in detail.
Made In USA Poly Rollers!
We can produce custom rollers with a hardness range from 20A to 75D durometer with a variety of urethane additives that can be added to enhance wear properties while adding lubricity to the roller. The results are non-marking long life rollers that will meet or exceeds OEM specifications for your application often times costing less than original replacements with excellent lead times. Replacing a rubber coated roller and recovering it with a urethane coating is becoming more frequent due to urethane being more durable than many OEM materials such as rubber and plastic. We utilize the best in class polyurethane from world's leading polyurethane manufacturers. Our business, like yours, demands high quality and precise actions throughout every step of the process.
Tight Tolerance Rollers
Please Contact us for further details regarding your custom tight tolerance rollers!