Urethane rubber bars offer the elasticity of rubber and the toughness and durability of metal. Engineers recommend urethane rubber bars because they are available in a very broad hardness range. Also, Plan Tech's rubber bars are abrasion, chemical and corrosion-resistant.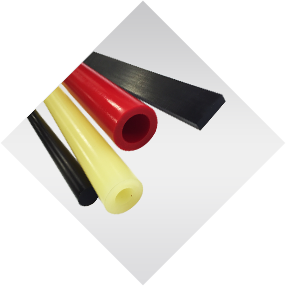 Urethane casted bars are one of the high precision urethane products we manufacture in our fully equipped in-house machine shop using our state of art urethane facility. We produce urethane rubber bars using the best of urethane materials from world-renowned chemical manufacturers, and our highly skilled team of engineers are well vast in the art of creating rubber bars that are of world-class quality.
The physical properties of our custom cast bars are second to none in the industry, and we have additives that we add to our urethane on demand to further enhance their property. With our industrial bars, you rest assured of quality at its best. In our 30 years of producing urethane products, we have consistently manufactured parts that are top-notch quality, and that includes our urethane bars. It, therefore, isn't a surprise that we are one of the biggest producers of cast poly bars in the industry.
To maintain the quality of our bars, we always apply speed and precision as is the case with all our urethane parts. Plan Tech a leader in cast urethane manufacturing, process's urethane additives from the world's leading chemical companies. Whether its enhanced lubricity for high abrasion resistance applications or for anti-static wheels for shoppers who don't want to be zapped touching a metal cart. Having more than 30 years experience in the polyurethane industry provides Plan Tech the specific knowledge of incorporating polyurethane additives:
UV Protection Urethane Additives: Ferro is a leading global supplier of ultraviolet UV protection technology-based functional coatings and color solutions in urethane products protecting color pigments for urethane industries that are heat stable, lightfast, and chemical and weather resistant.
Are you interested in Urethane Rubber Bars? Please Contact us so we can help solve your requirements and work with you on your specific application!