Urethane rubber bumpers are one of the numerous high-quality urethane products produced in our state of the art in-house machine shop at Plan Tech. They are designed at Plan Tech with great level of speed and precision allowing us to meet high volume demands without compromising quality.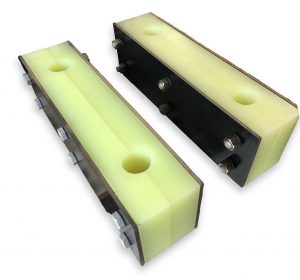 Our urethane rubber bumpers offer low compression set as well as excellent resilience and wear resistance making them the best product on the market. These bumpers can be used in applications where corrosion, vibration, abrasion, and magnetism prevent the use of conventional materials like steel parts. Also, our urethane rubber bumper has proven to be the safest, most efficient and reliable compression material for punching, stamping, etc.
Now, it doesn't matter what industry or application you require urethane rubber bumper for, you can be certain of top-notch quality when you purchase from Plan Tech. We boast over thirty years' experience at manufacturing urethane products that meet and exceed international standard making us the go-to company where the demands for urethane rubber bumper are being met both quantitatively and qualitatively.
Our urethane rubber bumpers also offer high load bearing capability, noise abatement, are oil and solvent resistant, provide excellent vibration damping and shock absorbance, strong bonding to mating parts, and give very low build-up heat. Plan Tech strives to use the latest in design software technology for the designing of complex urethane molds. We utilize SolidWorks to design all of our open face and compression molds per customer specifications. When we have completed our design that has been approved by the customer we machine them using CAMWorks at our in-house machine shop. This creates a faster "concept to production" environment to produce superior parts for our customers. Below is a list of the software used for designing urethane molds:
Siemens NX: Siemens NX was formerly known as NX Unigraphics or usually just UG, is an advanced high-end CAD/CAM/CAE software package originally developed by Unigraphics. NX software helps you design, simulate and manufacture better products faster by enabling smarter decisions in an integrated product development environment. NX is the Industry's most integrated, flexible and efficient solution for product design, engineering and manufacturing.
Are you interested in cast Urethane rubber bumpers? Please Contact us so we can help solve your requirements and work with you on your specific application!