Urethane rubber seals act as a barrier and prevent dirt, contamination and other external entities from entering the system containing the lubricating oil. The urethane rubber seals are made to withstand harsh environments, they have high resiliency and are abrasion resistant.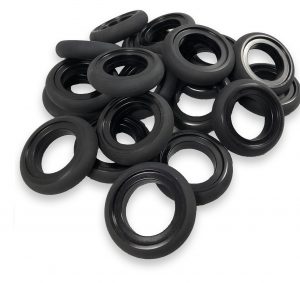 Plan Tech uses a variety of cutting methods to custom make your urethane rubber seals from pure 100% urethane stock material. Our polyurethane rubber seals are immune to oxygen and ozone. The presence of urethane makes it better resistant to abrasion, chemicals, cuts, oil grease, high impact and heavy loads.
Specifications of the urethane rubber seals produced by Plan Tech include:
Grades: standard, precision, food grade which is FDA compliant (approved for dry food)
Durometer rating (hardness): 60A, 70A, 80A, 90A( custom up to 70D)
Temperature range :-25F to +250F
Pressure Sensitive Adhesive (PSA): available upon request
Guage (thickness): .005" up to 2"
Widths: 12", 24", 48"
Available in any color.
Lightweight material
Poly rubber seals are used as wear pads, electrical equipment machine mounts, shock absorption, and vibration damping. Plan Tech's polyurethane rubber seals are super-durable. We manufacture urethane rubber seals that can function well in high stress demanding applications. Our custom urethane rubber seals include: urethane seal rings, urethane hydraulic seals, urethane pipe seals and lots more.
We can help you to manufacture custom made urethane rubber seals to meet your specification and demand. Plan Tech a leader in cast urethane manufacturing, process's urethane additives from the world's leading chemical companies. Whether its enhanced lubricity for high abrasion resistance applications or for anti-static wheels for shoppers who don't want to be zapped touching a metal cart. Having more than 30 years experience in the polyurethane industry provides Plan Tech the specific knowledge of incorporating polyurethane additives:
UV Protection Urethane Additives: Ferro is a leading global supplier of ultraviolet UV protection technology-based functional coatings and color solutions in urethane products protecting color pigments for urethane industries that are heat stable, lightfast, and chemical and weather resistant.
Superior Abrasion Resistance Additives: Plan Tech is a leading cast polyurethane supplier that also has a custom line of additives. One of the most commonly used additives is Armorglide providing superior abrasion resistance for high use applications.
Are you interested in cast urethane rubber seals? Please Contact us so we can help solve your requirements and work with you on your specific application!