Urethane rubber sheets are extremely abrasion resistant and can be custom cast/molded in a wide range of sizes, shore hardnesses and colors. Plan Tech also has the capability to machine urethane rubber sheets utilizing highly advanced in-house technology in our machine shop. Our urethane rubber sheets can easily be water-jet cut into custom parts. Also, our urethane rubber sheets have consistent thicknesses throughout the entire sheet with perfect square corners making water-jet setup and cutting easy.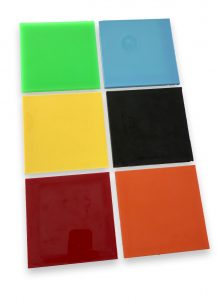 Urethane rubber sheets are popular for a wide range of industrial applications including scrapers, linings, gaskets and machined components. Plan Tech standard cast urethane rubber sheets meet the highest industry specifications for both durometer and thickness, making them perfect for severe applications. They also offer long run durability and extreme resistance to harsh environments of water, solvents, chemicals, heat and abrasion. They excel in ozone resistance and performs exceptionally well in mechanical strength. They possess great load-bearing capacity and although tough and hard, they excel greatly in elasticity.
Each of the urethane rubber sheets we produce is manufactured from a concept to actual production with the highest quality at our in-house facility. Our team of dedicated, experienced engineers and sales personnel are also there to assist you in the development of your project from inception to completion.
Urethane vs Metals and Plastics
As far as resisting abrasion and corrosion are concerned, no other elastomer material perform better than polyurethanes. This is one aspect where their performance is more efficient than plastics and most metals.
This is one advantage urethanes hold over metals that require no debate. While metals are generally renowned for their remarkable ability to produce noise, polyurethanes, on the other hand, absorb noise thereby preventing it.
The elastomeric memory of urethanes is second to none; they have the ability to regain their initial size regardless of the rigidness at which they are extended or stretched to a significant extent. Whereas many plastics and metals can't regain their original size having been extended beyond their breaking point or elastic limit.
Better than metals and plastics, urethanes are capable of maintaining their high-performance ability such as their elasticity, etc., even under such temperature extremity that is below -60°F.
Please Contact us for further details regarding urethane rubber sheets!